Loading...



From WKYC.COM / TV 3
Get the latest school closings and delays


Funding for WKSU is made possible in part through support from the following businesses and organizations.
---
For more information on how your company or organization can support WKSU, download the WKSU Media Kit.

(WKSU Media Kit


)
---

National Issues



Wednesday, March 5, 2014




Cleveland Ukrainians headed to Washington D.C.




Group wants President Obama to increase the political, economic and diplomatic isolation of Russia


by WKSU's KABIR BHATIA


Reporter
Kabir Bhatia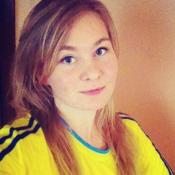 Nadiya Petriv says she can't believe her homeland -- which was peaceful when she visited last summer -- is now a war zone
Courtesy of Facebook
Download (WKSU Only)
In The Region:
A delegation from Northeast Ohio's Ukrainian population is headed to Washington, D.C. tonight, with a plan to demonstrate in front of the White House.

The group is leaving from St. Vladimir Ukrainian Orthodox Cathedral in Parma. It's been watching the stand-off between Russian forces and the shaky new Ukrainian government, and plans to ask President Obama to increase the pressure on Russian President Vladimir Putin.

One of the people on the bus is 18-year-old Nadiya Petriv. She told NPR's "Here and Now" that she hopes the situation can be resolved with diplomacy.
"It's hard to believe. You can't even imagine that some place where you were during the summer -- peaceful and no problems at all -- would be turned into a war zone. Now I think, after this, the country is more united than it has ever been."

Petriv moved to the U.S. at age 5 and calls the stand-off in Crimea an invasion. She adds that the St. Vladimir's group wants the U.S. to increase the political, economic and diplomatic isolation of Russia.
---
---