Loading...


Government and Politics



Thursday, March 6, 2014




Ohio Secretary of State says update your clocks and your voter info




Voters have until April 6 to update in time for the May primary




by WKSU's STATEHOUSE CORRESPONDENT JO INGLES



Reporter
Jo Ingles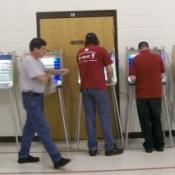 Voters who want to cast regular ballots in May can check on line to ensure their information is correct.
Courtesy of WKSU file photo
Download (WKSU Only)
In The Region:
As Ohioans prepare to set their clocks ahead one hour this weekend, Ohio's Secretary of State says they should do something else. Ohio Public Radio's Jo Ingles has details.
Secretary of State Jon Husted says this is also the time for Ohioans to check their voter registrations and change their addresses if necessary.
To make any changes, go to myohiovote.com. It takes about five minutes to update a voter registration. And by updating, voters will be able to cast a regular, instead of provisional, ballot on Election Day. Or voters with updated registrations can also request a ballot to vote by mail. Voters who want to cast ballots in the primary this May have until April 6th to update their registrations.
---
---
---
Stories with Recent Comments