Loading...


Courts and Crime



Thursday, March 6, 2014




Cleveland overhauls its police pursuit policy, says training is the key




Chief Williams says changes were in the works even before the fatal chase of November of 2012


by WKSU's TIM RUDELL


Reporter
Tim Rudell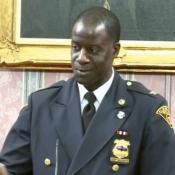 New Chief Calvin Williams says the new policy has input from experts and rank-and-file.
Courtesy of File photo
Download (WKSU Only)
In The Region:
Cleveland police should not be caught up in any more 60-car high-speed chases. Police Chief Calvin Williams announced a new pursuit policy for the department today. He said the new rules "were in the making" before the fateful November 2012 chase that ended in the shooting deaths of two unarmed people. But he acknowledged that the change is meant to prevent just such a thing. Clearer supervision and communication are keys. Pursuits are limited to violent felons and intoxicated drivers. And officers are forbidden from "self-assigning"—taking up or joining a chase on their own. Williams stressed however, that the new policy was prepared with attention to what the rank-and-file members of his department think.
"Officers also had input on this training. When we do a revision of a policy, we send it out to those experts and get their opinions and best practices. But we also send it out to members of the division and get their input on: Will this work in Cleveland?"

Seventy officers were disciplined for not following then existing procedures in the 2012 chase. But Williams said stronger training will keep that from happening with the new policy.
---
---
---
Stories with Recent Comments