Loading...



From WKYC.COM / TV 3
Get the latest school closings and delays


Funding for WKSU is made possible in part through support from the following businesses and organizations.
---
For more information on how your company or organization can support WKSU, download the WKSU Media Kit.

(WKSU Media Kit


)
---

Government and Politics



Friday, March 7, 2014




Portman proposes unemployment benefit extension




Plan would require assessments and possible job skills training or community service


by WKSU's KABIR BHATIA


Reporter
Kabir Bhatia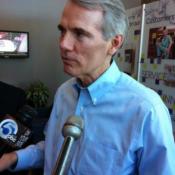 Sen. Rob Portman is behind the latest proposal to extend unemployment benefits
Courtesy of K. Bhatia
Download (WKSU Only)
In The Region:
Sen. Rob Portman is proposing with a new extension of unemployment benefits, but the money would come with conditions that he says will benefit people without jobs. Ohio's Republican senator wants to add five months of federal benefits to the six months of state benefits. Under the new plan, anyone applying for the federal extension would undergo an assessment and could be assigned to job training or 20 hours a week of community service. Portman says that will enhance the skill-set for jobseekers, and help them to land work sooner.
"I think there are about 100,000 jobs open right now. A lot of them do require skills that people may or may not have who are moving from, say, a manufacturing job and have to go into a higher-tech position in manufacturing or an IT job or a bio-science job. So the notion is to provide them with better skills training."

Extended federal benefits ended late last year, and bills to replace it have foundered. Portman and five other Republican senators are sponsoring the latest bill, and say it would be paid for through higher fees on plane tickets, adjustments in federal pension contributions, and eliminating some payments to people who are also on disability.

Portman delivered the weekly Republican address on Saturday morning.




Sen. Rob Portman's address:
"Hi, I'm U.S. Senator Rob Portman from Ohio, and I want to talk to you today about how to get America moving again.
"It's been five years since the experts said the recession was over, but for millions of Americans, it feels like it never ended.
"We're living through the weakest economic recovery since World War II, and a lot of folks are struggling to make ends meet. Unemployment remains stubbornly high; the number of long-term unemployed is actually at record levels.
"But these statistics only tell half the story. Eleven million Americans have become so discouraged that they've given up looking for work altogether. Poverty rates have gone up, salaries have gone down, with the average family now bringing home $4,000 less than they did just five years ago. The wealthy are doing just fine in the Obama economy. But with paychecks down and the cost of healthcare, college education and a tank of gas going up, this Middle Class squeeze is strangling the American Dream.
"Clearly, the policies coming out of Washington, DC haven't worked. President Obama and Democratic leaders in Congress believed we could spend our way to prosperity, and I guess they still do. Despite record levels of debt, the President's budget this week asked for hundreds of billions in new government spending and over a trillion in new taxes.
"It's the same old story. Washington has tried more taxing, even more spending and an unprecedented amount of borrowing – and yet here we are.
"Some say this is just the new normal and we need to get used to it: fewer people working, smaller middle-class paychecks, bigger government, never-ending deficits and record debt piled on our kids and grandkids.
"I say that's wrong. That our best days should be ahead of us. We know we can do better, and it starts by putting our trust back in the American people.
"That's what's at the heart of Jobs for America, a seven point plan put forward by Senate Republicans to bring back opportunity, spark an economic recovery and restore to every American a shot at the American Dream. It starts by getting government out of the way where we need to, whether it's healthcare, regulations, or taxation.
"Take Obamacare. I think it's clear to just about everybody, maybe except the President, that it's just not working. He promised people they could keep their health care plans, but they're losing them. He said costs would go down, but for many, they've soared.
"Let's replace Obamacare with reforms that put you back in charge of your own healthcare. Decisions about your health should be between you and your doctor, not a bureaucrat and an insurance company. Let's expand choice, rather than limiting it. Let's create jobs, instead of destroying them. And let's bring down the costs instead of driving them up.
"Obamacare is a good example of government overreach, but it's far from the only one unfortunately. Bureaucracy and red tape are also burying many American businesses and making it harder to create jobs. We've proposed changes that will ensure that the benefits of regulations are worth the cost – that regulations do their job, without costing you yours.
"Then there's the tax code. April 15th is coming up, and I don't have to tell you that the tax code is a complex and expensive mess that needs to be simplified. But what a lot of folks probably don't know is that our out-of-date and inefficient corporate tax code is driving opportunity and investment overseas, creating jobs in other places that should be right here in America. Let's fix the code so that every company pays its fair share while bringing those dollars back to our shores to expand plant, equipment, and jobs.
"And let's also make sure that the taxes you do pay are spent wisely. Let's pass a balanced budget amendment to rein in the runaway, big government spending that drives our deficits.
"We often talk about the irresponsible debt burden we are leaving our children and grandchildren. That's bad enough. But our massive debt doesn't just mortgage our future; it undermines our present and has a direct impact on jobs and the economy right now today.
"The government's bad habits shouldn't stand in the way of your success.
"Let's also get the United States back into the business expanding markets overseas for what we make right here in America. We have some trade agreements hanging in the balance now. Let's be sure we are competing on a level playing field and give the President the authority he needs to open more markets for our farmers and our workers. We want to see people around the world buying products that are stamped, 'Made in America,' so we can create more jobs right here at home.
"We can also create jobs by making the all-of-the-above energy strategy we hear so much about a reality. Let's produce more and use less. We should wage a war on inefficiency, but not a war on coal. We should expand all forms of American energy, including through offshore drilling and developing our shale natural gas. And let's finally approve the Keystone Pipeline to create jobs and speed the day when North America will truly be energy independent.
"And finally, let's make sure Americans can get the skills they need to access the jobs that are out there. The federal government now runs 47 different, often overlapping, workforce-training programs, but they aren't closing the skills gap. In fact, they have too much bureaucracy and too much inefficiency. If we want more Americans in a job, then we need workforce retraining programs that do a better job.
"These are seven commonsense proposals with bipartisan roots that we all know can help get our country moving again. America's best days can be ahead of us, just beyond the next horizon. We just have to reapply some of the principles that have made America that beacon of hope and opportunity for the rest of the world.
"'A rising tide lifts all boats,' said John F. Kennedy. Let's enact these reforms. If we do, we'll see unemployment rates drop, we'll see incomes rise and we'll see the gap between the rich and the poor close, not because we are bringing people down but because we are bringing people up.
"Thanks so much for listening, and may God continue to bless our great country."
---
---