Loading...


Ohio



Friday, March 7, 2014




UPDATE: AG is released. Spokesman says hospitalization of Ohio AG DeWine was a precaution




DeWine grew ill shortly after speaking to a group of school children; staff says he's fine


by WKSU's M.L. SCHULTZE


Web Editor
M.L. Schultze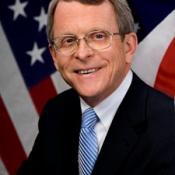 Attorney General Mike DeWine is fine, according to staff.
Courtesy of State of Ohio
Download (WKSU Only)
In The Region:
UPDATE 9:45 a.m. Saturday: The latest statement on the condition of AG Mike Dewine: "Attorney General Mike DeWine left The Christ Hospital in Cincinnati this morning after staying overnight for observation following a bout of vertigo. He is feeling much better and is on his way home to Cedarville. "Mike and Fran would like to extend their thanks to the caring staff at The Christ Hospital, and to all who expressed their good wishes. "He is expected to return to his normal schedule next week." Here's an updated statement from the AG's staff: "Attorney General Mike DeWine is feeling much better after not feeling well earlier today prior to a speaking engagement in Cincinnati. His wife Fran is with him and they want to express thanks to all who have passed along good wishes. "He will be held at The Christ Hospital overnight for observation after a bout of vertigo and is expected to be released tomorrow." Ohio Attorney General Mike DeWine fell ill and was hospitalized today  shortly after speaking at a school in Cincinnati.  His spokesman Charlie Norman says the attorney general was taken to Christ Hospital just north of downtown as a precaution, but he is doing well.  The 67-year-old DeWine had been speaking to The Good Shepherd Catholic Montessori School. He then went to a banquet room downtown, where he became ill but never lost consciousness. His speech tonight to the Delaware County Republicans has been cancelled.  
---
---
---
Stories with Recent Comments