Loading...


Ohio



Monday, March 10, 2014




Gov. Kasich's mid-term budget is likely to surface tomorrow




State lawmakers will take a first look at details on an income-tax cut, and a potential hike in other taxes




by WKSU's STATEHOUSE BUREAU CHIEF KAREN KASLER



Reporter
Karen Kasler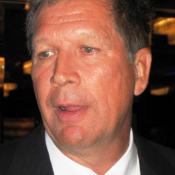 Gov. Kasich is expected to fill in details of his mid-biennial budget this week.
Courtesy of FILE PHOTO
Download (WKSU Only)
In The Region:
After a week off, lawmakers are back at in Columbus. Statehouse correspondent Karen Kasler reports there's a highly anticipated measure they'll be hearing about this week.
This week, Gov. John Kasich's budget update -- what he calls "the mid-biennium review" -- comes out.

It's expected on Tuesday, with testimony likely before lawmakers on Wednesday. That document could include ideas from Kasich's State of the State speech, such as his call to lower the top income tax rate below 5 percent, and could also include some things that weren't mentioned, such as his support of an increase in the severance tax on oil and gas drillers.

In a House committee, there's the possibility of movement on a bill that could allow hunters to use silencers. And there are hearings scheduled on bills unlikely to pass, such as a requirement that the State of the State be held in the Statehouse and a mandate that governors witness executions.
---
---
---
Stories with Recent Comments