Twenty-eight-year-old Anthony Vitt of New Philadelphia has been to rehab. He's been to jail. He's been to prison. He knows more than a dozen people who have died. He nearly died too, several times. For more than a decade, heroin was the only thing he lived for. "I tried my first line and I fell in love," he said.
An instant addiction
Vitt and his friends started smoking marijuana at 16. Then they tried shrooms, then LSD…And then, heroin was passed around a party and he was hooked. Instantly. The addiction, though, was gradual. He'd do it once a week, then twice, then every other day…then, by the time he was 19, it was a daily part of life.
"One time it was serious, that I had crack in one vein and heroin in the other, speedballing. I just didn't have the willpower to say no. I just couldn't stop."
Legal trouble and working the system
At the time, Vitt had no resources -- or reasons -- to stop. Then he got caught stealing to support his addiction. Vitt was placed in Tuscarawas County's drug court program…It offers non-violent offenders treatment instead of jail. After six months, he tested positive for heroin and was kicked out. He says it became a game.
"Our full time job was literally how we are going to pass this urine screen or what drug are we doing to not show up in our urine screen. It was so bad that the restrooms where you take your urine test in the courthouse, they had needles and people were literally using in the bathroom. Like they would pee and then they would use after they pee."
Vitt's life centered on working the judicial and treatment system. He often would get detoxification through the Canton Crisis Center with no plans to actually stay sober. It was, in a way, an economic decision.
"I would go there at least once every two to three months just so I can get out and then I could just shoot up a good amount of dope and get high. And it won't take as much."
First round of treatment
By the time he was 20, he checked himself into New Destiny – a faith-based, in-patient treatment facility in Wayne County. He completed six of nine months, then went to an intensive outpatient program…He says that introduced him to more people to do heroin with. Finally, his legal troubles caught up with him. He spent 80 days in the Tuscarawas County jail and completed a treatment program through the Stark Regional Community Correction Center. He enrolled at Kent State Tuscarawas. He stayed clean, but continued to live right next door to trouble.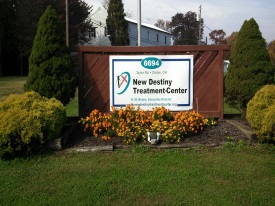 "I saw a couple guys I knew. And next thing you know, I have a needle in my arm again. If I had a chance I probably would have gotten a tattoo on my chest – 'Goal one: stay away from old friends.' But I think if I would have ran away from Tuscarawas County, it doesn't matter where you go, the drug is there."
Revolving door of jail and treatment
Vitt's cycle of use, jail and treatment continued for several more years. It's a pattern U.S. Attorney Steve Dettlebach says the criminal justice system needs to change. He helped form a collaborative heroin action plan last year that focuses on better coordination.
"The courts have to be involved to make sure that when people re-enter the community from jail that they re-enter with a chance of success instead of being just doomed to just go around through the revolving door of jail or worse yet, the morgue," Dettlebach says.
A new beginning
After repeated turns through that revolving door, Vitt finally landed in prison. And that's when something clicked. He enrolled in Pickaway Correctional Institution's Oasis program. It's designed to separate and treat inmates addicted to drugs and gives them counseling and job training. It's highly structured and disciplined.
When he was released, he started taking his sobriety seriously. He enrolled in Stark State College with the goal of becoming a drug counselor. He graduated last May with an associate's degree in social and human services. He's been heroin-free for five years and this past year, he landed his dream job as a counselor at New Destiny --- the same rehab center where he was a client.
"I'm not even a morning person but for some reason I haven't complained since I've been up in the morning," he said. "I just love my job."
A lingering taste
Dressed in a tie and sitting at his desk, he says coming to work every day is his NA meeting. But, even five years' sober doesn't mean he's cured.

"There's days I can be walking into work or walking into my house and I will taste heroin in my mouth like I just got done using. Just for like 10 seconds. I have the tools now to cope with that, but it's just crazy."
Vitt still lives in New Philadelphia, and he still runs into his old friends. He says he's polite and walks away. He fears for other young men and women in his community.
"In the New Philadelphia/Dover area, there's a lot of suburbs and kids that have money and parents that have money," he says. "And like for drug dealers, they love it. Eat it up. And a lot of them are smart now. They just bring it into our county and then they leave."
Education is key
The U.S. Attorney's office is also concerned. Part of its heroin action plan includes education. Dettlebach says people need to learn the ever-changing dangers of heroin.
"If you use heroin the very first time incorrectly, you can die. If the heroin you get is adulterated, you can die. If the heroin you get is too pure, you can die. If you go into treatment and come out of treatment and use heroin at the old dose, you can die."
Vitt agrees that better education could help the next generation of rural kids faced with the pressures he felt as a teenager.
"When I was in school it was: 'Bring the D.A.R.E bear' or something and 'Just Say No.' It was one time -- a sheriff would come and talk about drugs and that was it. I didn't really have a manual saying, 'Heroin: OK, you have to have it every day or you'll be sick. Or crack – if you take one hit you're going to have to take another hit.'"
Vitt plans to continue helping and educating other addicts. He's enrolling in Youngstown State University in the fall to get his bachelor's degree. His ultimate goal is to be a counselor within the state prisons system –- the same programs that changed his life and gave him a second chance.