Loading...


Education



Wednesday, March 12, 2014




Kent State to build $33 million art building




The new building will bring together gallery and studio space, and is slated to open in 2015


by WKSU's KABIR BHATIA


Reporter
Kabir Bhatia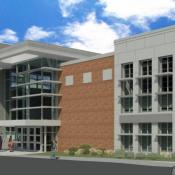 A rendering of Kent's plan to connect and renovate the Art Annex and Van Deusen Hall into the new Center for Visual Arts
Courtesy of Kent State University
Download (WKSU Only)
In The Region:
Kent State's Board of Trustees today approved a $33.8 million art school to that will consolidate programs that are currently spread throughout the campus. As WKSU's Kabir Bhatia reports, it's one of several new projects coming to the campus.
The Center for Visual Arts will bring Kent State's studio, classroom and gallery spaces together for the first time in more than 50 years. The university will pay for the project by selling bonds.

Tom Euclide, associate vice-president of facilities planning and operations, says the plan is to renovate the Art Annex and Van Deusen Hall, plus add a new section connecting the two.

"Construction has already started with earlier work with demolition and abatement. And we're getting ready to start the structural steel work on the addition as soon as we receive all of our information from the board and from the contractors. And you'll see in-depth work starting this summer and carrying all the way until it's finished."

The art program has been spread over six buildings on Kent's campus. The new building will be LEED Silver certified, and is slated for completion in August, 2015.

The trustees also gave the go-ahead to begin taking bids for a new alumni center on the site of the long-abandoned DuBois bookstore.

Room and board increase approved
The trustees also approved a 3.9 percent increase in room and board to fund improvements in campus housing. That works out to about $100 per semester, and takes effect this fall.

Kent State Vice-President for Finance Gregg Floyd points out that the cost is still in the bottom third of state schools' room-and-board rates.

"Buildings [from] 1959 still look strong as the dickens, but there are things inside of them: plumbing systems that tend to lime up and you can't hardly get water through them. And heating and ventilation systems that become obsolete old. So these are important investments that I think we need to make."

And President Lester Lefton, who is retiring this summer, was awarded a 25 percent bonus, which works out to just over $106,000.
---
---
---
Stories with Recent Comments