More than 17 percent of children in Ohio were obese, according to a 2011 study by the Centers for Disease Control and Prevention.

Jim Bischoff is chairman for the American Heart Association's Ohio chapter. He urges the importance of changing this trend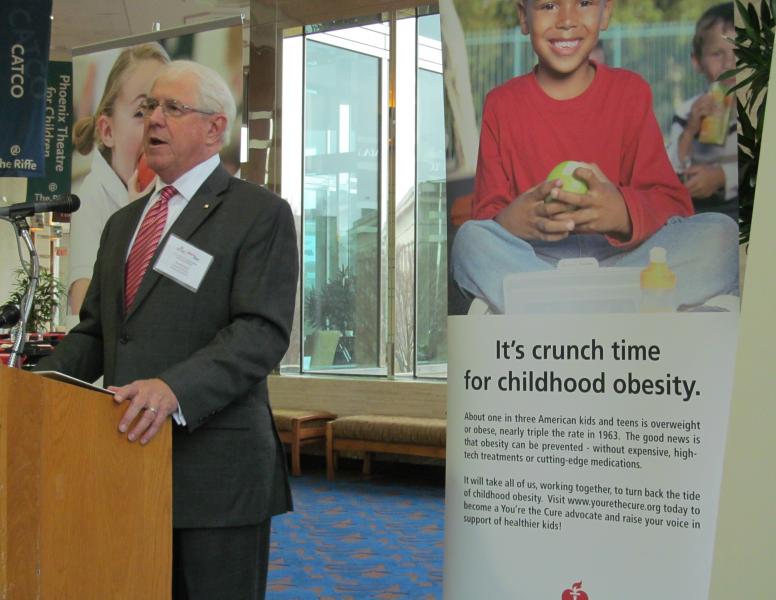 early-on in order to promote a healthy lifestyle into adulthood.
"We have way too many children who are overweight. And I think the most startling fact is that given the way the health of children is going for early onset diabetes,the kids aren't going to live as long as their parents are, and I don't believe that's the kind of legacy that we want."
In order to avoid such a legacy, Bischoff believes kids and families need to become more active. He says the state can help by expanding access to areas that promote physical activity. That's why the American Heart Association is working with state lawmakers to revise liability laws on school grounds.

Greater access to gyms and playgrounds 
Bischoff says there are way too many schools around the state that close off their playgrounds and gymnasiums to the public in fear of being liable for any problems that might occur.
"Some schools have felt threatened that if there was an accident and they didn't have appropriate supervision. ... So rather than open it up and make themselves legally vulnerable in any way in a sense of protecting the taxpayers, they've chosen to just not open the facility."
Encouraging access to these spaces means the school districts can enter into agreements with community organizations and businesses to hold events and workout classes.

Critical during winter months 
Dr. Mary Chace is a professor of public health education at Wright State University. She adds school gymns can be especially important to preserving children's health during the cold winter months.
"Here in Ohio, we do have poor weather and we do have part of our year (in which it's) just very difficult to exercise outside. So we'd like to open the doors to more possibilities especially for those schools in those areas that don't have a lot of community spaces for children to be active."

Strengthen relationship between school and community 
Chace believes that will help schools on several levels in the long run. She says a partnership could generate money for the district and could also boost relationships in the community that make voters see school levies differently. Chace says this effort has proven to be successful in other parts of the country.
"We have seen research in other states where several years after schools start opening their doors, we do see more physical activity happening especially in certain populations – especially Hispanic populations, African American populations – that're already going to and from the school. They're comfortable with it. So we have seen in other states that it's very effective."
The bill to revise liability laws for schools has passed out of committee and now awaits a vote on the House floor.