Loading...


Government and Politics



Wednesday, March 12, 2014




Financial disclosure forms remain crucial to Dimora's bribery defense




But an appeals judge challenges whether they would have provided enough evidence to make any difference in the corruption verdict


by WKSU's KEVIN NIEDERMIER


Reporter
Kevin Niedermier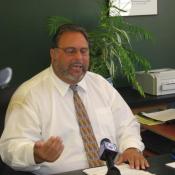 Dimora lost his job as Cuyahoga commissioner and his freedom when he was convicted of bribery and corruption charges. He's challenging that on appeal.
Courtesy of KEVIN NIEDERMIER
Download (WKSU Only)
In The Region:
An appeals court in Cincinnati heard arguments today from former Cuyahoga County Commissioner Jimmy Dimora on why his conviction on bribery and other corruption charges should be overturned. His attorney, Christian Grostic says Dimora's trial in Akron was unfair, largely because Judge Sara Lioi did not allow Dimora to introduce his state ethics disclosure forms. Lioi ruled that the forms were hearsay. Grostic argued that they showed Dimora did not try to hide gifts he received. But, in an exchange with Grostic, appeals Judge Richard Allen Griffin suggested the forms provide a slim defense.
"All he did was he just had 55 names on there. He didn't say what he took or how much the value was. It's just a generalized laundry list of people."
"That's correct, but it includes the alleged bribers, who the government argued..."
"If it actually specified what he took from them, it might be a little bit more relevant."

"It would be more powerful, no question about that. But it's directly contrary to what the government argued and what they introduced into evidence. "The judges suggested Judge Lioi probably made a mistake keeping the forms out of the trial, but that it was not an error that would have changed the verdict. A decision on the appeal could take months.
Dimora is serving a 28-year prison sentence.
---
---
---
Stories with Recent Comments