Loading...


Ohio



Wednesday, March 12, 2014




Wreck on Ohio turnpike kills three, injures a trooper




The crash involved about 50 cars stretching about two miles




Story by

KELSEY LEYVA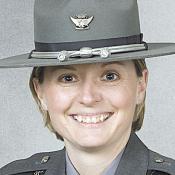 Anne Ralston, Ohio State Highway Patrol spokeswoman, says they are trying to open at least one lane to get traffic moving.
Courtesy of Ohio State Highway Patrol
Download (WKSU Only)
In The Region:
An accident on the Ohio Turnpike has killed three people, injured a state trooper and shut down about two miles of the highway midway between Cleveland and Toledo. Blowing snow triggered a 50-vehicle pileup near the Fremont/Port Clinton and Sandusky exits. People were trapped in their cars for hours. Lt. Anne Ralston, spokeswoman for the State Highway Patrol, says the wreck affected traffic traveling in both directions. Troopers had to focus on small goals first.
"We are efforting to try to get at least one lane open so we can get traffic moving. They're having difficulty due to the weather and road conditions in the area to be able to route traffic off of the turnpike on to state routes."

The weather and accidents also closed parts of Interstate 90 and 480 in Northeast Ohio and numerous side roads.

One trooper was also injured during the crash. The patrol says trooper Andrew Clouser from the Milan Patrol Post was investing an accident shortly before 1:30, and the patrol got word shortly after 2 p.m. that he was pinned between cars.

Clouser was being treated at a Toledo hospital. Ohio patrol Staff Lt. Anne Ralston told NPR Clouser was in serious but stable condition Wednesday night. The 29-year-old trooper has been with the patrol just over a year.

---
---
Stories with Recent Comments