Loading...


Ohio



Wednesday, March 12, 2014




Kent State Board of Trustees approve building projects




Art school, alumni center and dorm renovations slated for the next several years


by WKSU's KABIR BHATIA


Reporter
Kabir Bhatia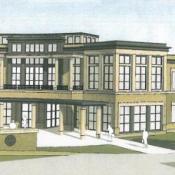 The new alumni center will be on the site of the abandoned DuBois book store; the university can lease the land from the Portage County Port Authority, with an option to buy
Courtesy of Kent State University
Download (WKSU Only)
In The Region:
Kent State University is moving forward with more than $50 million in building projects on campus as part of the school's "Foundations of Excellence" renovation and construction initiative. WKSU's Kabir Bhatia reports on that and other items passed at Wednesday's Board of Trustees meeting.
The trustees approved a $15.8-million residence hall modernization project, which includes HVAC upgrades and new furniture. That's being funded with residence hall capital reserves, but the cost for room and board is still going to increase 3.9 percent starting this fall. The trustees say that will fund regular maintenance.

As for new buildings, Kent State can now begin the bid process for a new alumni center on the site of the long-abandoned DuBois bookstore. Kent State Vice-President for Finance Gregg Floyd says the new building will house development offices and the alumni association.

"We're still finalizing the cost. It is going to be a consolidation of the people that are now in three different places that work under the Institutional Advancement. It's going to be a neat place for alumni to visit and congregate and get all crazy before a football game."

Preliminary construction is already underway on Kent's $33 million Center for Visual Arts, slated to open next year. It brings together Kent State's studio, classroom and gallery spaces for the first time in more than 50 years. Currently, the department is spread among six buildings on campus.
The university will pay for the project by selling bonds.


Tom Euclide, associate vice-president of facilities planning and operations, says the plan is to renovate the Art Annex and Van Deusen Hall, plus add a new section connecting the two.

"We're getting ready to start the structural steel work on the addition as soon as we receive all of our information from the board and from the contractors. And you'll see in-depth work starting this summer and carrying all the way until it's finished."

The board also gave President Lester Lefton his final annual review, since he's retiring in May. The board lauded his achievements, including growing enrollment 26 percent since he took over in 2006. Lefton was awarded a 25 percent bonus, which is just over $106,000.

And Kent State will have two new programs starting this fall: a bachelor of science in agribusiness at the Tuscarawas campus, and bachelor's and master's programs in Justice Studies and criminology. The bachelor's has been inactive since last year, when the department disbanded, but the master's is new, and will be offered completely online.
---
---
---
Stories with Recent Comments