Loading...



From WKYC.COM / TV 3
Get the latest school closings and delays


Funding for WKSU is made possible in part through support from the following businesses and organizations.
---
For more information on how your company or organization can support WKSU, download the WKSU Media Kit.

(WKSU Media Kit


)
---

Ohio



Friday, March 14, 2014




Whirlpool is in-sourcing 400 jobs from China to Ohio




Project is expected to be done in four years


by WKSU's M.L. SCHULTZE


Web Editor
M.L. Schultze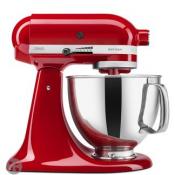 The plant west of Dayton makes KitchenAid 16,000 standing mixers a day.
Courtesy of Whirlpool
Download (WKSU Only)
In The Region:
Whirlpool has announced it's bringing 400 jobs back to the U.S. from China and investing $40 million into its southwest Ohio plant. The plant opened in Greenville in 1942 and makes KitchenAid stand mixers. The company confirmed today it is going to nearly double the size of the plant to 460,000 square feet. The addition of 400 jobs will bring employment up to 1,400. The expansion is expected to be complete by 2018.
---
---