Loading...


Environment



Friday, March 14, 2014




Rep. Fudge wants Ohio EPA to at least stall the Lake Erie dumping plan




Corps says it would be safe to dump harbor sediment out in the open lake


by WKSU's M.L. SCHULTZE


Web Editor
M.L. Schultze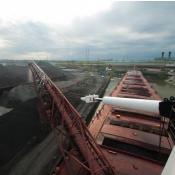 Shipping in the region relies on channels cleared of some 180,000 cubic yards of sediment.
Courtesy of KEVIN NIEDERMIER
Download (WKSU Only)
In The Region:
Cleveland Congresswoman Marcia Fudge is asking the Ohio Environmental Protection Agency to reject a plan by the U.S. Army Corps of Engineers to dump material dredged from Cleveland's harbor and the Cuyahoga River into an open Lake Erie. The Army Corps plans to dump the sediment dredged from the navigation channels within a mile of the intake for Cleveland's drinking water supply. In a letter to the state agency – which must sign off on the plan -- Fudge said she's concerned about potentially toxic levels of materials in the sediment. The Corps says the levels of heavy metals and other toxins have dropped to safe levels and notes that it dumps material from other harbors out in the lake. In her letter, Fudge wrote, "While dredging and other required maintenance of our lake help stimulate economic growth, there must be concentrated and coordinated efforts to make dredging as harmless as possible."

For the last 40 years, the Army Corps has corralled the dredged material close to shore. It's mandate is to use the least-costly but environmentally viable alternative. Public comments on the plan were due this week.
---
---
---
Stories with Recent Comments