Loading...


Government and Politics



Friday, March 14, 2014




Cuyahoga Valley National Park visitors dropped in 2013




Government shutdowns, flooding and park upgrades contributed to visitor decreases




Story by

LYNDSEY SCHLEY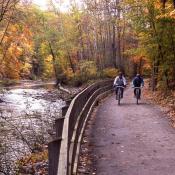 Closure of the Towpath due to flooding was a factor that led to decreased park visitors in 2013.
Courtesy of Cuyahoga Valley National Park
Download (WKSU Only)
In The Region:
Cuyahoga Valley National Park was the 11th most-visited in the nation last year, but that's down one place from 2012. Parks spokesman Steve Roberts says 2.1 million people visited the park in 2013, down about 200,000 from 2012. He says visitation to all national parks is down, due to the government shutdown.
"Obviously here in this part of Ohio, fall color is one of the huge reasons that people visit Cuyahoga Valley National Park from all over the country -- to see the great change of color," Roberts says. "With the park being closed during those critical weeks in October, that really cut down on some visitation."
Roberts says other factors include flooding of the Towpath, work on the scenic railroad and the closure of the Canal Visitor Center.
Roberts says while no one can control flooding, the railroad work will be done and the visitor center will reopen as the Canal Exploration Center in May, which he hopes will increase the number of people visiting.
---
---
Stories with Recent Comments