Airship purists may quibble about calling it a blimp because the new N-T model has some internal supports. But otherwise it's all blimp. The new helium airship is 82 yards long – that's 50 feet longer than the older GZ 20 model that the company still flies in Florida and California. It's also wider and assistant chief pilot Michael Dougherty, sitting at the controls, says it has three engines instead of two.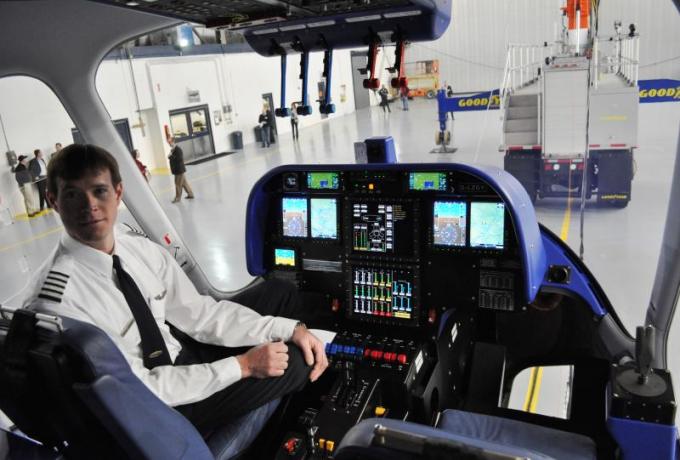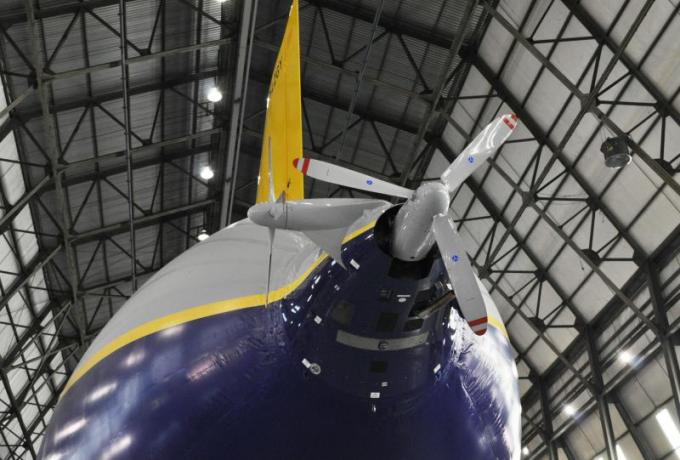 "It gives it the capability to hover, take off and land nearly vertically and greatly increases our ability for television because we can hold still. We can hover and look at something instead of continue to fly around in a circle basically as we do now."
The new gondola seats 12 while the old version seated 7. What's more it has a restroom with a window so you don't miss the view. In fact below the pilots' feet are two pedals and then another window so they can see the ground – or the game below them.

Gary Melliere of Goodyear's marketing department says the company gets great exposure when providing aerial coverage of sporting events. But they also give rides to their dealers and important customers.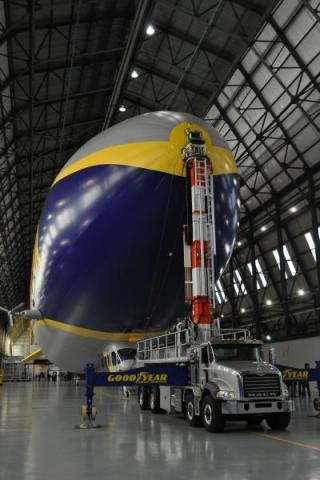 "It's one thing to see it but to actually go on a ride is just phenomenal so that's a huge draw for the customers, to be able to offer that."
Besides its business customers Goodyear donate rides for certain charities. Raffles for a ride raised more than $400 thousand dollars last year. Chief Pilot Greg Poppenhouse says those riders enjoy the gentle ride and leave with a smile
"Because it's a totally different way of flying. Just relaxing.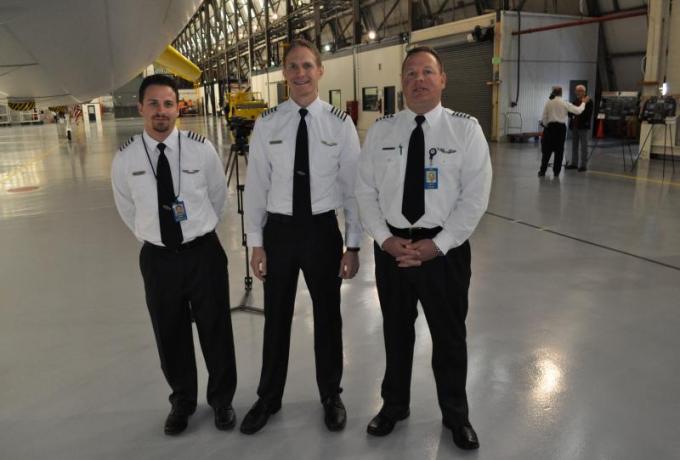 The new blimp can travel at 73 miles per hour. That 20 miles per hour faster than the older model. It will also have 50% more LED lights on their outside display. Electronics consultant Robert Peacock says they'll have a 4 times the resolution and be able to show video at night

"Anything from a Goodyear advertisement to a charity mission that we may be doing to a specialized message to an audience that we may be flying to, a Goodyear dealer, a sporting event."

Maybe the most notable service the Goodyear blimp provided was during the 1989 World Series when it an earthquake struck the San Francisco Bay area. The blimp was able to provide valuable video coverage of the devastation below. Peacock says they still help when they can.

"We've actually gone when there are hurricanes and done multi-lingual messaging to let people know where they can seek shelter, get fresh water."

There is no name yet for the new blimp. Goodyear has opened it up to the public with a contest on their website that starts now and ends April 4th. The new Akron-based blimp will undergo extensive testing and certification before it starts working ball games in mid to late summer.

Here's a time-lapse video of the blimp's construction: