Average number of earthquakes up in Ohio
A newspaper analysis finds the average number of 2.0 magnitude and higher earthquakes occurring in Ohio each year has gone up. The Columbus Dispatch reports that the rise coincides with an increase in oil-and-gas drilling and deep injection activity in eastern Ohio. There has also been an average increase in tremors nationally. The Ohio Department of Natural Resources data shows that Ohio averaged two earthquakes a year of 2.0 magnitude or greater between 1950 and 2009. Between 2010 and 2014, that average rose to nine. Five minor quakes were reported last week near Youngstown.

Amherst councilman gathering opinions on residential chickens
A councilman from Amherst is taking a hard look at his community's opinion on chickens. Dave Goodell started a poll last week to find out what neighbors thought about raising chickens in residential areas. The Lorain Morning Journal reports that the survey received 350 responses in the first day.
Thus far, a majority of residents are against allowing chickens, but Goodell says those results are not yet conclusive. There is not yet a deadline for survey response. When interest drops off, Goodell plans to close the survey and present the results to council.

Ohio moving forward with bids for Republican National Convention
Ohio is pressing forward with three bids to host the Republican National Convention. Cincinnati, Cleveland and Columbus are competing with five other U.S. cities. Ohio was a convention runner-up for Republicans in 2008 and Democrats in 2012. The state's biggest selling point is its pivotal role in electing presidents, but RNC Chairman Reince Priebus and members of the selection committee downplay swing-state status as a top factor in their decision. They say fundraising ability and hotel space are the most important factors.

Gas prices on the rise
Gas prices in Ohio are up this week. The cost for a gallon of regular gasoline averaged $3.65 in Monday's survey from auto club AAA, the Oil Price Information Service and WEX Inc. That's about 7 cents higher than last Monday. Monday's price is 31 cents higher than a month ago, but is a few cents lower than last year at this time. The national average Monday was about $3.52 per gallon. Experts say prices are rising due to ongoing seasonal maintenance at refineries and concerns over simmering tensions in the Ukraine.

New standards for Ohio jails expected today
A legislative panel today is expected to take up new standards for Ohio jails. The rules revise mental health policies and other aspects of jail life, from inmate meals to emails. The former would cut back on the number of meals served each day. The latter would allow jail staff to review prisoners' emails for potential security issues.

FitzGerald introduces wife to voters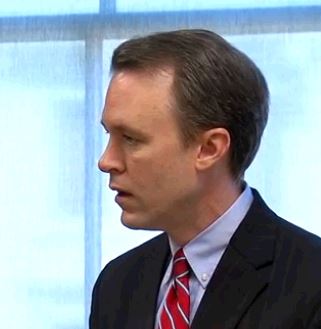 Democratic gubernatorial contender Ed FitzGerald has introduced his wife to about 1,000 Democrats as a woman employed at two jobs. The Columbus Dispatch reports the Cuyahoga County executive described Shannon FitzGerald at the state party's 2014 Legacy Dinner on Saturday as working at a school during the week and at a northern Ohio hospital on Saturdays. He says his family is like many in Ohio, where one or both parents work multiple jobs. Shannon FitzGerald has said she will move to Columbus with her husband if he is elected. Gov. John Kasich's wife, Karen, spent years as a public relations executive.

Ohio State researchers find disturbing ice melting in Greenland
New research from Ohio State University shows that the last stable portions of the Greenland ice sheet are melting more quickly than previously thought. Researchers told the Columbus Dispatch that most scientists had believed glacial ice streams in northeastern Greenland were not seeing any changes. Now they know the streams are draining rapidly. The new data bumps up projections on future sea-level rise toward the high end, which could be disastrous for coastal communities.

New bill could ease flood insurance costs
Ohioans dealing with rising flood-insurance premiums could see some relief with a new bill in Washington. Last week, Congress approved legislation that would undo some of the increases homeowners saw as a result of a flood insurance reform act back in 2012. That reform was to cut federal subsidies that encourage private insurers to leave the flood insurance market. Instead, it led to huge increases in premiums. The Columbus Dispatch reports that new bill would limit premium increases to about 15 percent, and protect homeowners whose property was not in a flood zone when they built or purchased their house. Both of Ohio's senators voted in favor of the bill.
Ohio's "Sunshine" laws called into question
Today marks the beginning of Sunshine Week, which is meant to serve as a reminder of the importance of government transparency. At the same time, transparency advocates are speaking out about Ohio's public records laws. The Columbus Dispatch reports that some are questioning recent Ohio Supreme Court rulings, which have set precedent about what makes a records request appropriate. The rulings have made it easier for government officials to deny records requests by saying they are overly broad.

Lottery money going up for schools, other funding down
The Ohio Lottery has funneled all of its profits to education for the last 40 years. According to the Columbus Dispatch, that will total $20 billion sometime next month. Lottery money has increased drastically over the years, but instead of that being added to existing state funding, other state funds have been taken away. School funding experts say nobody knows exactly how much money has been taken away because of added lottery funds.

Drug abuse leads reasons for child custody loss
The Ashtabula County Children's Services has seen a 41 percent jump in cases of parents losing custody of their children in the last four years, according to the Star Beacon, and drug abuse is the leading cause. Of cases where those kids go to other family members, 90 to 95 percent of them are related to drug addiction.
More than 600 families have seen children removed from their parents and placed with relatives since 2007. At the same time, Children's Services has lost 22 percent of its state funding.
Job fair for veterans with felony convictions
A job fair catering to military veterans is planned in Dayton this week. It focuses on all vets, including those who have felony convictions.
The fair is sponsored jointly by the Montgomery County Office of Ex-Offender Re-entry and the Dayton Veterans Affairs Medical Center. Organizers say local employers are looking for qualified workers, even those with criminal convictions. Veterans' advocates say while convincing some employers to be open to those with convictions can be a struggle, giving ex-cons a chance to be productive will ultimately strengthen public safety.