Loading...


Environment



Tuesday, March 18, 2014




Canton battles Canada geese




City parks employ ribbons, lasers and dogs -- so far


by WKSU's M.L. SCHULTZE


Web Editor
M.L. Schultze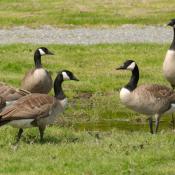 Canada geese have become fixtures in many Northeaster Ohio communities to the point where they've been declared a nuisance.
Courtesy of Wikipedia
Download (WKSU Only)
In The Region:
Canton is fighting the Canada geese in its parks with a combination of laser lights, ribbons, water fountains and dog patrols. It's also gotten permits to shake nests. Shaking the nests prevents the goose eggs from hatching and requires a permit from the Ohio Department of Wildlife. The laser lights will be installed at Westbrook and Stadium Park ponds, disrupting the sleep of the geese. And the fountains will go into those parks as well as Monument Park. The holographic mylar ribbons will add a visual deterrent, and the dog patrols will happen at random times. In announcing the efforts, the parks department noted that the state also issues hunting permits to reduce the number of resident, nuisance geese. But it says the city will try the other steps first. Canton is also warning people not to feed the geese and is investigating citations and fines for repeat offenders.
---
---
---
Stories with Recent Comments