The asphalt milling machine on this Canton street looks like a big Zamboni;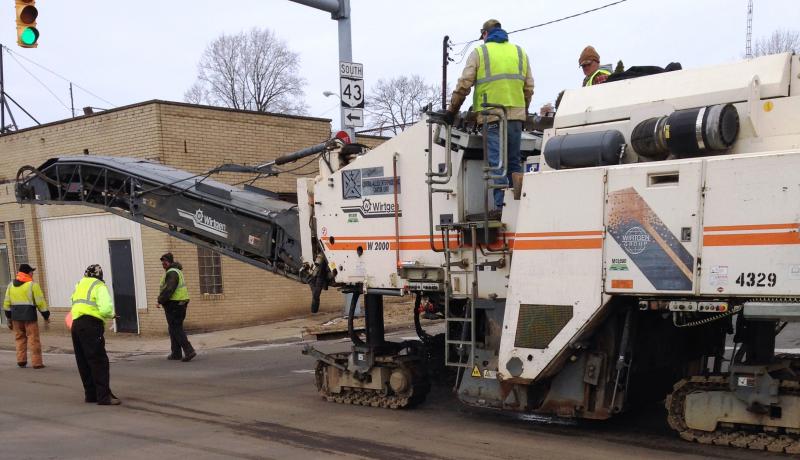 with a coal conveyor boom spewing pavement it chews from the roadway into accompanying dump trucks.

"It'll pulverize the asphalt to the depth the crew will set it to," explains Michael Rorar, superintendent of streets. "The nice thing about these streets here in the Canton area is that they have brick underneath them."
Grinding back to the past
And the brick is what makes what's happening here on 25th Street NW near Malone University doable. Potholes were overlapping like lunar craters, making driving on, or fixing them, nearly impossible.

"It almost looks like it got roto-tilled, and the problem with these is that they're too numerous and too close. So the normal patching we do wouldn't hold up.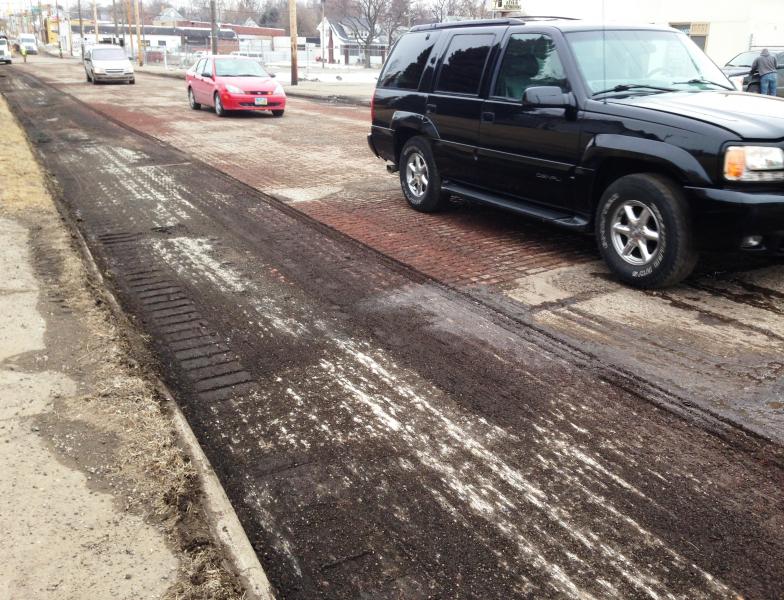 That's why we're milling these areas out. Because there's no other solution."
Eating the doughnut
The idea is to get rid of un-fixable potholes, for now, by getting rid of the pavement they're in -- sort of eliminating the hole by eating the doughnut. But that can only work if there is something underneath to carry traffic until a long-term fix.
And here, and elsewhere under Canton's asphalt streets, there is.

It's brick, a century old and older, from when Canton was the paving brick center of the country;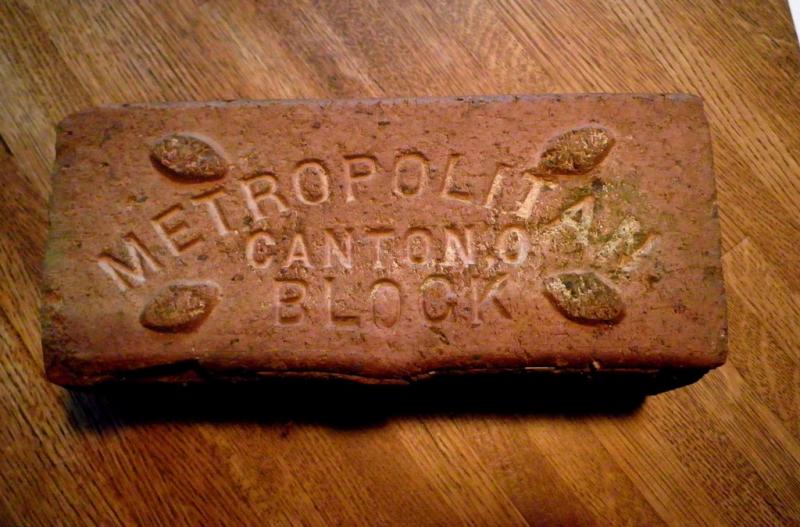 something that came about due to exceptional clay resources in the area, and the entrepreneurial nature of the times in northeast Ohio.
Back as far as 1813
Chris Kenney of the McKinley Presidential Museum in Canton explains, "There were brick companies in Canton, the first one having opened in 1813. But then, post-Civil War, you start to get the brick industry really taking off with Belden Brick. Henry S. Belden went to the 1876 Centennial Fair in Philadelphia, saw this machine that cut and molded clay into bricks and he purchased one of those and made the paving bricks."
World leader
At one time, Canton had eight major paving brick companies, including Jacob Renkert's, which by 1902 was the largest in the world. So, Canton has lots of brick streets. A fact Kenney says the then-U.S. president noticed.
"There was one particular carriage that (William) McKinley had made for him to use in Canton with the brick streets in mind: Thin rubber on the tires, springs in the seats, and things like that.
Even McKinley's tomb towering 100 feet above his presidential museum and library
is mostly Canton-made brick under a veneer of stone.

"When they constructed the McKinley National Memorial between 1906 and 1907, there are over two million bricks in that building."
The look of Legos
At about that same time another historic structure went up, the 10-story Renkert Building in downtown Canton. McKinley Museum Curator Kimberly Kenney notes, "The Renkert Building was Canton's first skyscraper. It seems tiny to us in modern times, but that was the tallest building in town at the time it was built.

"And when you look at it the bricks look different.
And if you don't know they're paving bricks you don't know why. The dimensions are not the same. They're bigger."
But, mostly the paving bricks were for paving and not surprisingly they are under much of the asphalt in Canton.

"I'd like to see a return to brick," Kenney acknowledges, "as a historian. I mean, as long as it works, it would be neat to see bricks streets again."
Going back?
So, could the experiment of clearing the faulty asphalt lead to permanent use of the brick below? Michael Rorar takes the practical view.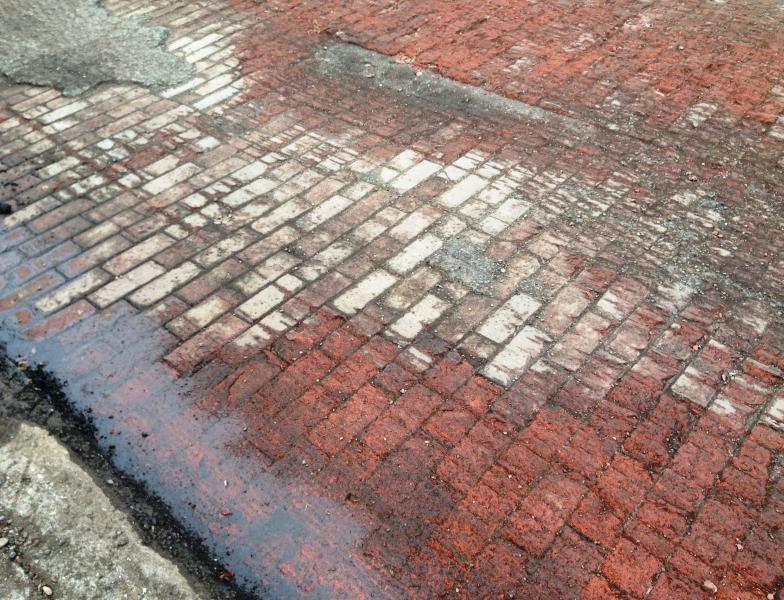 "There might be a thought to that, but right now it's just an emergency have-to-get-these-roads-fixed-type scenario. As we move through here and the summer starts creeping up on us, maybe that's something we take a look at. But right now we're just trying to get these holes fixed.
Rorar also says, because the brick infrastructure below the beat-up black-top is so old, there's no way to know what kind of shape it's in until the crews get done milling the asphalt.