Loading...


Government and Politics



Thursday, March 20, 2014




Libertarian candidate responds to being off the ballot




Signatures turned in by candidate for governor Charlie Earl and candidate for attorney general Steven Linnabary were found invalid




by WKSU's STATEHOUSE BUREAU CHIEF KAREN KASLER



Reporter
Karen Kasler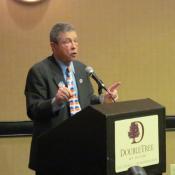 Charlie Earl says he realizes the chances him him being governor were slim, but believed it was worth fighting for.
Courtesy of Karen Kasler
Download (WKSU Only)
In The Region:
A federal judge dealt another setback to the Libertarian Party of Ohio this week, as he sided with Republican Secretary of State Jon Husted's decision to throw two Libertarian candidates off the ballot.

Husted had ruled that the signatures turned in by candidate for governor Charlie Earl and candidate for attorney general Steven Linnabary were invalid, because their paid signatures gatherers didn't disclose their employers.

The Libertarian Party of Ohio has filed an appeal in the 6th Circuit Court of Appeals in Cincinnati and while Charlie Earl told Ohio Public Radio's Karen Kasler that he's on board with that, he's not optimistic.
"I'm a realist. I realize my chances of being governor are slim," Earl says. "I realize that there are a lot of things in my life I enjoy doing, but I believe constitutional liberty is worth fighting for, and I believe my kids and grandkids deserve my very last effort."

He says he'd "gladly step aside," if someone younger were willing to take on the fight, but "I'm just doing it because no one else felt personally equipped to do it or had the time.

And he says he understands that the GOP-dominant Legislature is doing what it thinks it has to do to hang onto power.

"I think the system has treated us like it treats a lot of people. I don't want to be a whiner. The system is what it is. And when you have the power, when you have absolute power like (the GOP does) in Ohio, you write the laws and you write the laws that are favorable to you."

The federal judge said it was obvious that Republicans were involved in the challenges of Libertarian petitions because of concerns that Libertarians would potentially siphon votes from Gov. John Kasich. Republicans have denied that. There was testimony offered in the challenge that operatives aligned with Democrats had helped Earl and Linnabary gather the signatures they needed to get on the ballot.
---
---
---
Stories with Recent Comments