Loading...



From WKYC.COM / TV 3
Get the latest school closings and delays


Funding for WKSU is made possible in part through support from the following businesses and organizations.
---
For more information on how your company or organization can support WKSU, download the WKSU Media Kit.

(WKSU Media Kit


)
---

Government and Politics



Thursday, March 20, 2014




USDA makes progress helping families make healthier food choices




The USDA believes scientific measures of calories in school food programs and educating families about healthy eating have helped




by WKSU's ANDY CHOW



Reporter
Andy Chow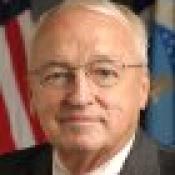 Kevin Concannon with the U.S. Department of Agriculture says some 4,200 farmers markets can process food stamp cards.
Courtesy of United States Department of Agriculture
Download (WKSU Only)
In The Region:
The U.S. Department of Agriculture admits a stigma is attached to food stamps and nutrition. Kevin Concannon, the USDA undersecretary of Food and Nutrition Service was in Columbus Thursday to speak to food bank and other advocates about the war on poverty. He says his department has been making great progress in helping families make healthier decisions. Concannon believes scientific measures of calorie levels in school food programs and educating families about healthy eating have helped. Also playing a major role, according to Concannon, are farmers markets.
"Of more than 8,000 farmers markets—now some 4,200 can process SNAP benefits, food stamp cards. Our effort there is twofold; one, to encourage households to be able to buy local typically not processed foods—fresh fruits or vegetables or grains; and it helps those local growers as well." 
Concannon says their programs are working and points to the Centers for Disease Control and Prevention which cited a USDA program for playing a role in decreasing the childhood obesity rate.
---
---