Loading...


Courts and Crime



Friday, March 21, 2014




Ohio man released from jail pending immigration trial




Man was arrested during a traffic stop and has no criminal history




Story by

LYNDSEY SCHLEY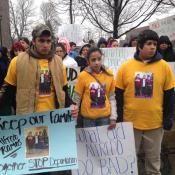 Alfredo Ramos Gallegos's children protest at his trial in Erie, PA. From left to right, stepson Felipe Pacheco, 18; daughter Diona Ramos, 12; and son Cristian Ramos, 13.
Courtesy of Katy Green
Download (WKSU Only)
In The Region:
An Ohio man will get to stay with his family while he faces felony charges of illegal re-entry into the United States. Alfredo Ramos Gallegos was arrested while riding in a car that was stopped for a traffic violation in February. He had been deported in 2000 and re-entered the country. Ramos was released on bond Thursday. He was immediately taken back into custody by Immigration and Customs Enforcement, which claimed it had a detainer to hold him pending trial, but it released Ramos again after a couple of hours. David Leopold is Ramos's attorney. He says the Department of Justice should focus its efforts on drug dealers and violent offenders instead of Ramos, who has two children who are U.S. citizens.
"It's great that he got out yesterday," Leopold says. "It's wonderful he's with his family and his daughter and his son and his stepson that he hasn't seen in a month. But he's got a tough road ahead because the Department of Justice is trying to make him into a committed felon essentially because he came back to be with his family."
Leopold says Ramos was also granted a one-year stay of deportation by Customs.
---
---
Stories with Recent Comments