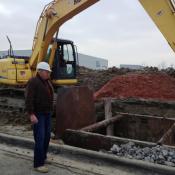 Crews spent weeks cleaning out storm and other sewers and rivers after the dumping was discovered.
Courtesy of M.L. SCHULTZE
Download (WKSU Only)
In The Region:
The former owner of a Youngstown company has pleaded guilty to dumping tens of thousands of gallons of frack-water in the Mahoning River. Sixty-three-year-old Ben Lupo changed his plea from not-guilty to guilty this morning in a federal court in Cleveland. He admitted to violating the Clean Water Act by directing an employee to dump the brine-and-chemical-laden water into a storm sewer in late 2012 and early 2013. According to investigators, Lupo's business had nearly 60 mobile storage tanks on his industrial-park property, each of which could carry 20,000 gallons. He contracted with companies to handle their oil-and-gas-drilling waste water. And beginning in November 2012, he ordered the employee to empty the waste into a sewer drain, which eventually emptied into the Mahoning River. Lupo directed that the activity be done only after dark when no one else was around. Acting on an anonymous tip, state and federal investigators moved in on Jan. 31, 2013, and discovered the dumping. Analysis showed the liquid included toxic chemicals such as benzene and toluene. Lupo faces three years in prison, fines of as much as $250,000 and is to be sentenced June 16. The criminal charges against his company, Hardrock Excavating, are still pending.