Loading...


Environment



Monday, March 24, 2014




Conservancy group says it likes part of the Lake Erie wind project but has concerns




Group says the project the has both positive and negative aspects




Story by

LYNDSEY SCHLEY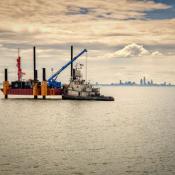 The Nature Conservancy in Ohio says they did not endorse LEEDCo's Icebreaker wind turbine project.
Courtesy of LEEDCo
Download (WKSU Only)
In The Region:
An Ohio environmental group says a wind-turbine company went a step too far when it listed the group as endorsing the project on Lake Erie. LEEDCo plans to build turbines off the coast of Cleveland. It recently listed a number of environmental groups as endorsing the plan, including the Nature Conservancy in Ohio. John Knights is the executive director of the Conservancy. He says his organization does not endorse specific wind projects. It only provides comment to help make environmentally sound decisions. Knights says harnessing more renewable energy in Ohio is good, but the Conservancy would have liked the company to do more assessments of the risks turbines pose to migratory birds and bats.
"We wanted to obviously point out that there was room for improvement and that everything isn't wrapped up in a nice neat bow," knights says. "There's still additional opportunity for research and additional assessment."

LEEDCo amended its announcement of support, removing the Conservancy group from its list of endorsing organizations. However, it did say the Conservancy had reviewed the announcement before it was distributed.
---
---
Stories with Recent Comments