Loading...



From WKYC.COM / TV 3
Get the latest school closings and delays


Funding for WKSU is made possible in part through support from the following businesses and organizations.
---
For more information on how your company or organization can support WKSU, download the WKSU Media Kit.

(WKSU Media Kit


)
---

Economy and Business



Monday, March 24, 2014




Akron plastics-to-oil company gets $1.6 million loan from the state




Company plans to create 20 full-time jobs with investment




Story by

LYNDSEY SCHLEY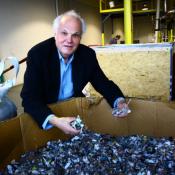 Vadxx Founder Bill Ullom sifts through plastics his process will turn into oil.
Courtesy of Jeff St. Clair
Download (WKSU Only)
In The Region:
The state awarded Vadxx Energy of Akron a $1.6 million Third Frontier loan today for its work turning used plastic into oil. Vadxx Founder Bill Ullom said in an interview in February that his company creates the oil from plastic bags and old tires through a process called "pyrolysis."
"Pyrolysis is the conversation of very large polymer molecules to smaller polymer molecules, depending on what we're trying to do, so we're making little ones out of big ones in the absence of oxygen, because if we had oxygen in at the temperatures where we are operating, there would be combustion," Ullom says. "Combustion does nothing but generate air pollution and it wastes material."
Vadxx says it will use the loan to create 20 full-time jobs in Akron.
Third Frontier loans promote technology-based economic development.
Page Options

Print this page

E-Mail this page / Send mp3

Share on Facebook
---
---
Stories with Recent Comments