Loading...


Ohio



Tuesday, March 25, 2014




Garrettsville's food pantry is among those wiped out by this weekend's fire




Food drive is underway and heavy duty items are needed, too


by WKSU's KEVIN NIEDERMIER


Reporter
Kevin Niedermier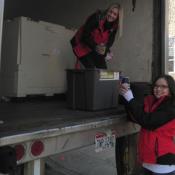 Akron-Canton Foodbank Communications Coordinator Kat Pestain (in the trailer) and Campaign Coordinator Stephanie Hinchliffe collected donations in Cleveland for the Garrettsville food pantry in Cleveland.
Courtesy of KEVIN NIEDERMIER
Download (WKSU Only)
In The Region:
The small northeastern Ohio town of Garrettsville continues to recover after a fire last weekend destroyed four historic-downtown buildings. The Garrettsville Community Cupboard is one of the organizations that lost everything. Efforts are underway to help the estimated ninety Portage County families the foodbank serves each month. The food pantry is one of about 500 programs the Akron-Canton Food Bank supports. Today, Akron Canton Food Bank official Kat Pestian is in a semi-trailer at WKYC T-V in Cleveland, where the station is promoting a donation drive. She says besides non-perishables like cereal, peanut butter and canned goods, the pantry has long-term needs.
"Heavy duty shelving, refrigerators, chest freezers, computer systems,even tables and chairs. So if you have any of those items lying around your house or you want to share with the pantry, they would welcomd those."

Pestian says the Garrettsville Community Cupboard should be operating in a new location in about two weeks. Meanwhile, people can use other Portage County food banks.
The state fire marshal says the blaze was probably started by roofers working on one of the buildings.
---
---
---
Stories with Recent Comments