The downtown stadium where the Indians play was named Jacobs Field after team owners Richard and David Jacobs, from its inaugural season in 1994 until 2008, when its name was changed to Progressive Field after its naming rights were purchased by Progressive Insurance. On April 4, 1994, President Bill Clinton threw out the ceremonial first pitch, and the Indians defeated the Seattle Mariners 4–3 in 11 innings.



Memories of a new stadium
Terry Pluto remembers the first season at Jacobs Field fondly. "I suddenly felt like, 'This is what it was like in America when the lights came on and indoor plumbing showed up.' People would stand at the gates looking out over the field and made pilgrimages down there to take pictures of it."
"It was also one of the first of the new old stadiums, which took the look of old ball parks and make it new." It was designed by HOK Sport as the second retro-modern ballpark.The first was HOK's Camden Yards in Baltimore, which opened two years before Jacobs Field. The retro-modern ballparks featured angular, asymmetrical fences of varying heights, a smaller upper deck, stepped tiers, and an unobtrusive singular color scheme.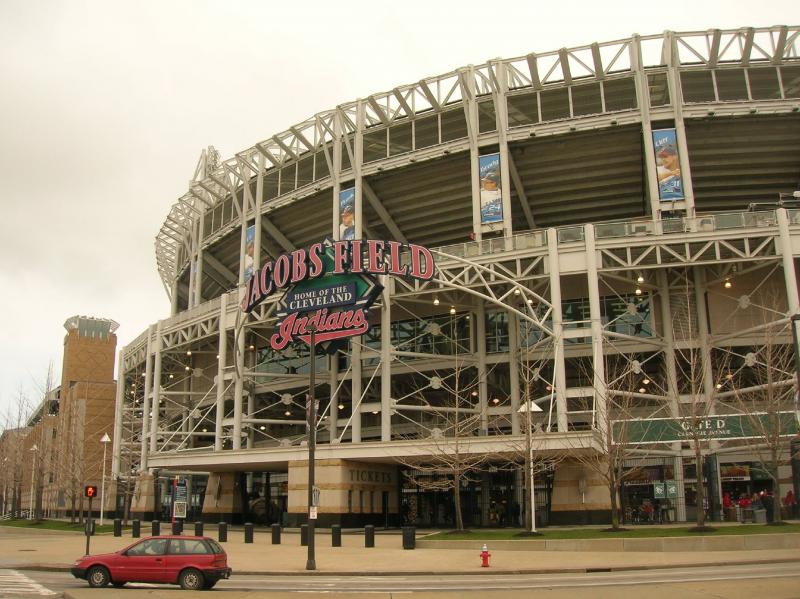 A hot team
Meanwhile, the Indians were starting to put together a team worthy of playing in that ballpark. "By '92, they knew the new ball park was coming and they had torn down the payroll and now they were getting ready to spend," Pluto says. They brought in free agents like Dennis Martinez, Eddie Murray and Orel Hershiser and matched them with good drafts.
And there was money to spend on long-term contracts because of the new park. "Cable TV was not nearly as important to revenue as it is today. Back then, a new ballpark with all these revenue streams, all the corporate boxes, all the luxuries, this is where the big money came from."
"And if you look at the middle 90's, the two (teams) that got the two newest parks real early – Baltimore and Cleveland – had very good teams because they were able to charge a lot more. It was a magical moment for a baseball fan such as myself."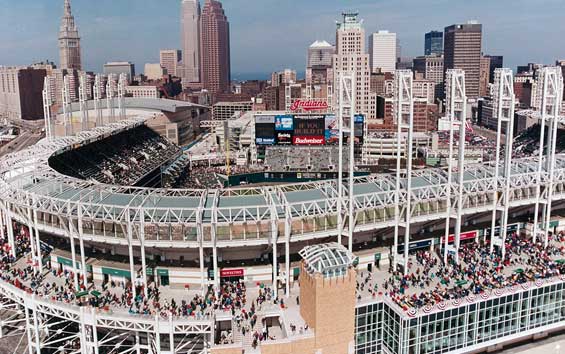 455 sellouts and huge season ticket sales
And the magic lasted well beyond a moment – through 455 consecutive sellouts, "It was a sea of Wahoo red, white and blue."
In those days, the team sold 27,000 season tickets – and could have sold more had the team not been holding onto some tickets for single-game sales.
"Today, they're fighting for 8,000 season tickets."
Challenges of cable TV and capital improvements
As importantly, "What took over for the ballpark being the big revenue producer in the 1990's, suddenly cable TV became the big thing to have for producing money."
And with some bad drafts, younger players not panning out and older stars moving on, fans kept looking back to the old days. "It was a great time, but it spoiled everybody."
And now, the team is pushing for renewal of the sin tax to upgrade a ballpark that's starting to show its age, despite the $63 million the Indians say they've spent on upgrades over the last 20 years.
"When you're down below you can see some of the structural things that need to be fixed."
Still, Pluto says, "You sit out in the bleachers and it's still a good seat. But, he notes that Indians fans are quick to complain about high ticket prices --- but don't seem to complain much about ticket prices for the Browns and Cavs. "Indians fans are kind of a grumpy lot. We all became spoiled children in the 1990's."