Loading...


Courts and Crime



Wednesday, March 26, 2014




Appeals judges will now decide if T.J. Lane will be resentenced




A recent Ohio Supreme Court decision requires that age be considered as a mitigating circumstance


by WKSU's M.L. SCHULTZE


Web Editor
M.L. Schultze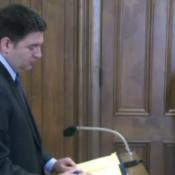 Geauga County Prosecutor James Flais says T.J. Lane was no impressionable youth.
Download (WKSU Only)
Three state appeals court judges are now deciding if the life prison sentence for T.J. Lane should stand, or if the Chardon shooter should get another review. The judges heard arguments this morning on whether a Geauga County judge should have given more consideration to Lane's age – 17 – at the time he walked into the Chardon High School cafeteria in 2012 and shot six students. Three of them died. Lane's appeals attorney argued that an Ohio Supreme Court decision earlier this month requires a judge to give closer consideration to age – even in the most heinous cases, and that young age must always be a mitigating circumstance. But Geauga County Prosecutor James Flais said Lane's age got all the consideration it deserved.
"This is what the judge said. Many juvenile offenders are manipulated or pressured into crime by adults or peers who urge or incite the juvenile to commit crimes. They prey upon the vulnerability of an impressionable you. That didn't occur here. These crimes were all the defendant's. T.J. Lane was not an impressionable youth."
The U.S. Supreme Court has forbidden mandatory life sentences for defendants younger than 18. But Ohio's life sentence is not mandatory.
---
---
---
Stories with Recent Comments