Earlier this month the Ohio Supreme Court ruled that a judge must specifically consider a minor's age as a mitigating factor during sentencing if the defendant is being given life without parole. The case involved a Cincinnati teenager convicted of murder.

In a Geauga County courtroom, T. J. Lane's attorney, Mike Partlow, told a three-judge panel from Ohio's 11th District Court of Appeals that Common Pleas Judge David Furhy failed to address the age issue when he sentenced Lane last year. After the hearing, Partlow talked about the issue.
Age is a must
"There are times in the law when you have to say magic words. I'm not sure I'd classify this as a magic-word situation, so much as a situation where the judge has to show, on the record, that he considered youth as a mitigating factor.
"In this case, I believe the judge, with the statement both of us were talking about in court, quite clearly showed that he didn't consider youth as a mitigating factor in this case. The Ohio Supreme Court has said it is and always is.

"There may be other factors that out weigh it, but still, youth itself is a mitigating factor."
The courts have determined that youth should be considered because adolescents' brains are still developing, and they can change as they grow older.

Geauga prosecutor youth was factored in Lane sentencing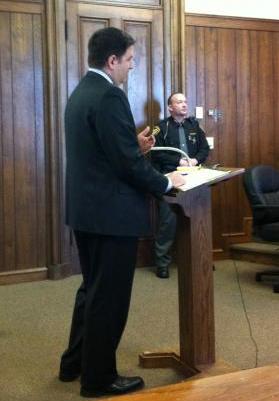 But Geauga County Prosecutor Jim Flaiz told the panel that while Judge Fuhry did not specifically say in court that age was a factor, the issue was considered.

"Specifically, he went into his age and he talked about how youths can be impressionable and they can be subjected to outside influences. But the judge discounted that and looked at all the psychological evidence and frankly he (Lane) pre-planned this killing. It was very premeditated, he went into the school and methodically shot his victims. And when the judge looked at all that evidence, it far out weighted the defendant's age."
Flaiz says if the appeals court decides to have Lane resentenced, a judge could say on the record that youth is a mitigating factor and still hand down a three life-term sentence. Either way, Flaiz expects the entire case to be appealed to the Ohio Supreme Court.

Decisions on resentencing or a full appeal are weeks or months away.
Bind over to adult court also being questioned in Lane case
Partlow, Lane's attorney, also appealed the state law that older teens charged with the most serious crimes must be tried as adults. He called the law unconstitutional because judges cannot rule independently.

The Ohio Supreme Court has agreed to review the issue in a separate case.

Outside the courthouse, Chardon resident Marilyn Healy agreed that Lane's sentence is too harsh.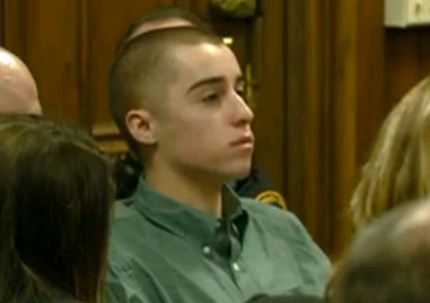 "I'm not saying that what he did was right, don't get me wrong on that one. But I think he was a disturbed young man, and I don't know if he needs prison or some kind of mental institution. ... I think that three life sentences for anything or anyone is a little bit ludicrous. You only live once and you can only die once."
Meanwhile, T. J. Lane is in the Allen Correctional Institute in Lima and did not attend the hearing. The mothers of the three victims who died in the shooting, and Lane's grandparents were in the courtroom for the hearing.