Fourth and fifth graders from two public school districts packed into the governor's ceremonial office at the Ohio Statehouse. The fifth-graders from Stingel Elementary in the Ontario Local School district gathered behind Gov. Kasich as he signed the bill.
"What happens at a football game when the band plays sometimes?" Kasich asked?
"They dot the 'I,'" responded one child.
"So guess what, I have an 'I' in my name and I think that 'I' is going to have to have a dot. So I think we ought to have your teacher dot the 'I'?"
They got excited. And so did their teacher, Amanda Gurney, who sounded almost giddy.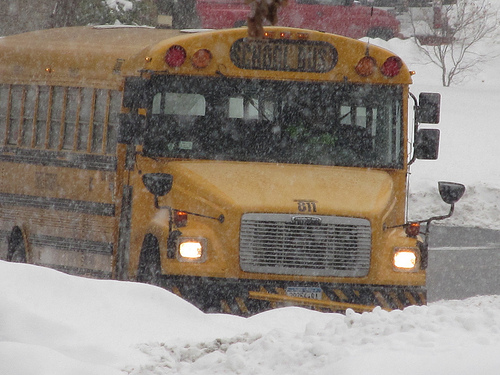 Earlier this year, her students had contacted the governor about the need to pass the bill to allow schools four extra snow days.
"I, as a teacher, really believe in students standing up for what they believe in. I believe in being active in the government. … So in this case, the calamity bill was something that meant a lot to my students because they didn't want to go to school in the summer time. So I used it as a moment to say, 'We learned about the government and we understand how a bill becomes a law. Let's take this as an opportunity to write to the governor."
The superintendent of the Ontario Local Schools, Lisa Carmichael, said she is glad Gov.Kasich has signed the bill to allow more calamity days.
"We had 10 days this year so this will allow us to only have to make up one day."
"This was a really bad year for us and 10 snow days was a lot. We did implement blizzard bags this year and we plan on doing the same thing next year so hopefully that will help us."
Next year, she added, things should go easier because the state is moving to total hours, rather than total days to make up the school year.
Under the law Kasich signed today law, school districts can have up to four additional snow days as long as they have used their contingency plan to make up the un-waived calamity days already built into their schedules.