Loading...


Health and Medicine



Thursday, March 27, 2014




Healthcare navigators hold enrollment event ahead of Monday's Obamacare deadline




Axesspointe in Kent will have eight navigators on-hand from 10 a.m.-2 p.m.


by WKSU's KABIR BHATIA


Reporter
Kabir Bhatia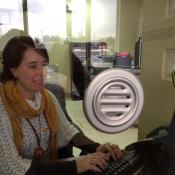 On Saturday, Heather Morris and seven of her fellow healthcare navigators will be on-hand at Axesspointe in Kent (1993 State Route 59) from 10 a.m. until 2 p.m., signing people up for health insurance.
Courtesy of K. Bhatia
Download (WKSU Only)
In The Region:
Monday is the deadline for open enrollment under the Affordable Care Act. And as WKSU's Kabir Bhatia reports, Northeast Ohio health insurance counselors are ready to help people who waited till the last-minute.
As of this week, more than 6 million people have signed up for insurance under Obamacare. But as of earlier this month, only about 3 percent of those people -- 180,000 -- were Ohioans. That number has likely gone up as call volume and web visits to healthcare.gov soared this week, ahead of the deadline.

The Obama administration is granting an extension to anyone who at least starts the process before Monday's midnight deadline.

Heather Morris of AxessPointe Community Health Center in Akron is one of the more than 27,000 Certified Application Counselors trained to help people sign up and avoid a penalty on their 2014 tax return.

"I've heard a lot of people say, 'Oh what's the difference? I'll just take the fine this year.' OK, [it's] $95 or 1 percent of your income. But next year, it's going to be around $350. The year after that, it's going to be in the $600's."

On Saturday, Morris and seven other counselors will be on-hand at Axesspointe in Kent from 10 a.m. until 2 p.m., signing people up for health insurance.

The penalties for not signing up could be much more than just the generally reported $95 fine. Anyone making more than about $19,000 is subject to a penalty of 1 percent of their income if they don't have insurance and don't sign up by this Monday. And while health insurance can still be purchased privately, Morris says government subsidies will also run out on March 31.

"I've seen a great range. I've seen someone get help for $62 a month. And I've seen someone get help for $600 a month. It just depends on income, age, tobacco use and where you live."

Earlier this week, the Washington Post reported that the 6 million people who've signed up nationwide is less than the Congressional Budget Office's original projection last year of 7 million, but higher than more recent projections.
---
---
---
Stories with Recent Comments