Loading...


Economy and Business



Friday, March 28, 2014




Too much pre-recession building is slowing economic recovery




Economists say this will likely improve in the future




Story by

LYNDSEY SCHLEY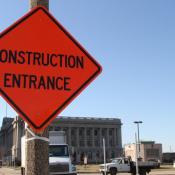 Too much construction before the recession has led to a problem called overhang.
Courtesy of Chris Wallis
Download (WKSU Only)
In The Region:
A recent study by the Cleveland Federal Reserve shows a glut of commercial structures built before the recession is still slowing recovery five years later. Filippo Occhino is a research economist at the Cleveland Fed. He says there are more commercial and residential buildings than are needed, which is called overhang. A large overhang depresses spending on new construction or renovations and he says that Is bad for the economy. Occhino says overhang has contributed to a 30 percent decrease in structural investment since before the recession.
"Building a structure is an investment decision, so you want to compare the cost of building a structure relative to the benefit that you're going to have from this new building," Occhino says. "If a business is building too many structures, it's just not making the right investment decisions. It's losing money."
Occhino says one of the industries with the worst overhang is retail, which still has 30 percent more stores than needed. But new construction and renovation spending is rising again and Occhino expects overhang to decrease.
---
---
Stories with Recent Comments