Loading...


Health and Medicine



Monday, March 31, 2014




Open enrollment ends tonight for the Affordable Care Act




Local counselors and navigators are helping people navigate the website, gain subsidies and avoid tax penalties


by WKSU's KABIR BHATIA


Reporter
Kabir Bhatia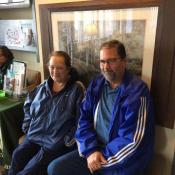 David Tipton (right) needs help navigating the Obamacare system because, right now, it thinks he and his wife (on disability) make too much combined to qualify for a subsidy
Courtesy of K. Bhatia
Download (WKSU Only)
In The Region:
Today is the deadline for open enrollment under the Affordable Care Act, and Northeast Ohio's counselors are trying to help people at least start the process before midnight – or incur what could be some serious fines. WKSU's Kabir Bhatia reports.
Open enrollment under the Affordable Care Act kicked off last fall, with healthcare.gov immediately coming under fire for technical glitches. With those issues sorted out, the number of people signing up has increased, especially in recent weeks as the deadline closes in.

"I think the challenge has always been just navigating the website. Understanding what to answer. How to answer."

That's Kristine Drummond, CEO of Axesspointe Community Health Centers, which held an enrollment event over the weekend at its Kent office.

"Having someone beside you that's been there, done that [and] understands the processes just enabled a lot of people to do what, probably, they could have figured out. But it would have taken a lot more time.

"Many of the people coming have never had health insurance before, and often don't understand such things as deductibles and co-pays. So there's a lot of generic questions involved in this process as well."

Drummond says many of the people who come in for help just aren't sure how to register online, or have run into technical issues in the past. And
almost all of them want to avoid the tax penalty for not buying insurance.

David Tipton from Kent says he tried signing up online, but the website thinks he and his wife make too much to get a subsidy. She's on disability, and he works for a company that offers health insurance, but it's too expensive for him and does not include dental or vision coverage.

"That puts me between a rock and a hard place. I'm trying to decide what to do right now. If she can get me a little bit less price insurance, to where we can both survive and pay insurance, then I'll get it. If not, I'm just gonna have to pay the penalty out of my taxes, unfortunately."

Who gets penalized, and when
The tax penalties kick in for anyone making more than about $10,000. Then, it's "$95 or 1 percent of your income, whichever is more. But next year, it's going to be around $350. The year after that, it's going to be in the $600's," according to Heather Morris, a certified application counselor at Axesspointe. She walks people through the process, and she'll continue doing so after today's deadline. Still, for many of those who don't start the process by midnight, not only do the penalties kick in, but subsidies end, too.

"I've seen a great range. I've seen someone get help for $62 a month. And I've seen someone get help for $600 a month. It just depends on income, age, tobacco use and where you live."


That subsidy, and the penalty, are also why John Roberts came from Green to the Axesspointe event. He's a retired Mt. Union professor, and has benefits through the State Teachers' Retirement System. But his wife only taught at the university part-time.

"She could have been on mine, except we couldn't afford an extra $600 for her a month. We put things off and off and off and this is sort of the last day or so you can get in on this particular thing. And we started learning about things like the $95 and how it compounds after a while and it becomes much, much higher."

Wait til next year
Last week, the Obama administration granted an extension to anyone who at least starts the process by tonight's midnight deadline. So far, The Washington Post reports that six million people have signed up nationwide as of March 1, which is less than the Congressional Budget Office's original projection last year of seven million, but higher than more recent projections. People who have a major life changing event – such as losing a job or getting married – will be able to sign up as those events happen throughout the year. And to get coverage for 2015, and avoid a tax penalty next year, open enrollment begins in about seven months, on Nov. 15.
---
---
---
Stories with Recent Comments