Loading...





Thursday, April 3, 2014




Gunfire closes Kent State, suspect arrested




Police comb campus looking for shooter during total lock down, suspect apprehended off campus


by WKSU's JEFF ST. CLAIR


Reporter / Host
Jeff St. Clair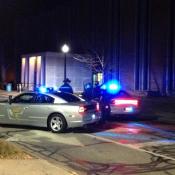 Police block access to an area of Kent State University as buildings are cleared following gunfire.
Courtesy of Jeff St.Clair
Download (WKSU Only)
In The Region:
Police from 10 districts and the Portage County SWAT teamed converged on the Kent State Campus around 8:30pm Wednesday evening after a shot was heard outside a classroom. Spokesman Eric Mansfield says blood was discovered at the scene and could not confirm that there were no injures. However an ambulance was not called to campus. The man, who has not been named, was arrested off campus shortly before midnight. It is not known if he is a student. Kent State's outgoing president Lestor Lefton says he was told the incident was sparked by a dispute between a couple.
"All over America people are walking around with handguns and resolving disputes and showing their anger by firing guns. It's part of what we live with in America today, it's very disconcerting."
Students from two buildings near the student center, Bowman Hall and the Business Administration Building, were under lock down for about 90 minutes as police combed the facilities looking for the shooter.
Campus officials will hold a press conference Thursday morning with more details.
---
---
---
Stories with Recent Comments