Loading...


Health and Medicine



Thursday, April 3, 2014




Mumps continues its spread through Central Ohio




Most cases are linked to initial outbreak at Ohio State


by WKSU's JEFF ST. CLAIR


Reporter / Host
Jeff St. Clair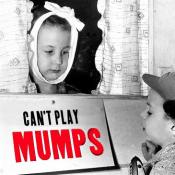 A generation ago, mumps was a common childhood disease. Now, it's rare thanks to aggressive vaccinations. But they are not 100 percent effective
Download (WKSU Only)
In The Region:
The mumps outbreak is spreading in central Ohio. Ten new cases are being reported in Delaware County in addition to the 119 people sickened since February in Franklin County.

Most of the cases are linked to an initial outbreak at Ohio State University. Columbus health officials say about 80 percent of patients report receiving the recommended vaccines for mumps.

But Cleveland Clinic infectious disease specialist Dr. Camille Sabella says the vaccine is not 100 percent effective.
"So if there are 10 – 20 percent of people who have been immunized are still susceptible then it's not going to be surprising that we're going to see people who have been vaccinated still get mumps."

Sabella says mumps is extremely contagious and many more people would have contracted the disease if it weren't for widespread childhood immunizations. Health officials say a handful of patients in the current outbreak report never having received the mumps vaccine.

---
---
---
Stories with Recent Comments