Loading...


Government and Politics



Thursday, April 3, 2014




Ohio Supreme Court allows Stark County sheriff on the May ballot




Controversy surrounding Stark Sheriff George Maier turns another page


by WKSU's TIM RUDELL


Reporter
Tim Rudell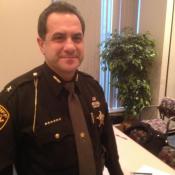 Former Massillon Safety/Service Director, now Stark County Sheriff George Maier was also once the interim director of the Ohio Highway Patrol
Courtesy of WKSU
Download (WKSU Only)
In The Region:
The Ohio Supreme Court has ruled that Stark County's appointed Sheriff can run for the office, and have his name on the next election ballot. WKSU's Tim Rudell reports on the latest turn in George Maier's bid for top cop in northeast Ohio's third largest county.
The Stark County Democratic Party Central Committee first appointed George Maier sheriff in February of 2013. He was their replacement for Michael McDonald the Democratic candidate who had won the previous November's election for the post, but was unable to take office after being stricken with what proved to be a terminal illness.

But not everybody felt Maier was qualified for the job. Opponents said he didn't meet the letter of the law of two State requirements for sheriff and they asked the courts to remove him. The courts did.

The Central Committee later re-appointed Maier saying he had addressed the requirements issues. Maier's opponents then shifted strategies…challenging his qualifications to be on the ballot in the next election of a Sheriff.

The County Elections Board deadlocked on that question. Ohio Secretary of State John Husted broke the tie in favor of Maier. Opponents appealed that decision to the Ohio Supreme Court …which now says George Maier does meet the qualifications to be a Sheriff in Ohio, and can be on the ballot for election to the office. There's no word yet on whether there will be any more moves in the case.
---
Related WKSU Stories

Stark sheriff flap heads back to the Ohio Supreme Court
Tuesday, March 11, 2014

Ohio Secretary of State will decide if Stark's sheriff can hold on
Friday, February 21, 2014

Sorting out who can be Sheriff is still a problem in Stark Co.
Friday, February 21, 2014

Stark's former sheriff is the current sheriff in Democratic do-over
Thursday, December 12, 2013

Maier is again Stark sheriff after a fight that included the Ohio Supreme Court
Wednesday, December 11, 2013

Party leaders to appoint a new sheriff in Canton
Tuesday, November 19, 2013

Ohio Supreme Court decision forces Stark County to change sheriffs again
Wednesday, November 6, 2013
---
---
---
Stories with Recent Comments