Loading...


Education



Friday, April 4, 2014




Ohio Senators take opposing sides on college athletic unions




Sen. Brown supports unionization, but Sen. Portman says it could have unintended consequences




Story by

LYNDSEY SCHLEY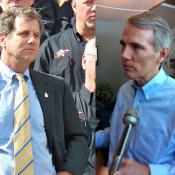 Ohio Senators Sherrod Brown and Rob Portman disagree on whether college athletes should be allowed to unionize.
Download (WKSU Only)
In The Region:
Football players from Northwestern University met with lawmakers in Washington, D.C. this week to discuss their upcoming unionization vote. One senator they talked to was Ohio's Democratic Sen. Sherrod Brown. He supports their cause. Brown says college athletes put in the hours of full-time employees and deserve similar protections. But in a conference call with reporters today Republican Sen. Rob Portman said he has concerns about the ruling.
"I'd like to see college athletics be less professional and not more professional," Portman says. "By unionizing 18-year-old kids who go to college on a scholarship, I think it's going to end up being harmful to them, not helpful. So, I'm not supportive from what I know about it, but I'm always interested in learning more. The questions I'm asking, very few people seem to know the answers and I think no one seems to know what the real implications are."
Portman says he worries that if student athletes are considered employees, they could be required to pay taxes on their aid. He also worries this ruling will only affect private colleges, giving an advantage to public schools in athletics.
---
---
Stories with Recent Comments