Loading...



From WKYC.COM / TV 3
Get the latest school closings and delays


Funding for WKSU is made possible in part through support from the following businesses and organizations.
---
For more information on how your company or organization can support WKSU, download the WKSU Media Kit.

(WKSU Media Kit


)
---

Sports



Friday, April 4, 2014




Rain delay fails to dampen opening day enthusiasm




Tribe fans endure downpours ahead of the season's home opener at Progressive Field, but hold on to hope


by WKSU's KABIR BHATIA


Reporter
Kabir Bhatia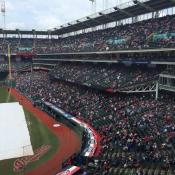 Rain delayed the home opener at Progressive Field, but not the fans' enthusiasm. Tribe fans discuss Chief Wahoo, the sin-tax, and instant replays with WKSU's Kabir Bhatia.
Courtesy of Kabir Bhatia
Download (WKSU Only)
In The Region:
The Indians home opener was delayed for over two hours today, but WKSU's Kabir Bhatia reports the weather hasn't dampened the enthusiasm of the sell-out crowd at Progressive Field.
---
---