Loading...


People



Monday, April 7, 2014




Another Indians season opens with Chief Wahoo under scrutiny




Team officially adopts a block-letter 'C' as its logo as pressure mounts to drop the smiling, 63-year-old msacot


by WKSU's KABIR BHATIA


Reporter
Kabir Bhatia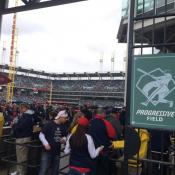 Progressive Field was packed with 41,274 Indians fans on Friday, while about two dozen people protested outside
Courtesy of K. Bhatia
Download (WKSU Only)
In The Region:
Correction: While ESPN writers including Paul Lukas and Stephanie Liscio have called for the logo change, the organization has taken no stance.

The Cleveland Indians spent their home-opening weekend battling the Minnesota Twins, and losing the series 2-1. The team is also battling increasing pressure to drop its Chief Wahoo mascot. WKSU's Kabir Bhatia reports.
Cleveland Indians fans have plenty to think about this season. The team is coming off its first playoff appearance in six years. It's the first time expanded instant replay is being used by Major League Baseball. The sin tax on this May's ballot could be key to updating Progressive Field. And support against mascot Chief Wahoo appears to be growing.

"If we called it the Cleveland Blacks or the Cleveland Jews, there would be a problem," says Robert Rocha, head of the American-Indian Education Center. "Why is it OK to call it the Cleveland Indians?"


He's been coming to opening day pretty much since Progressive Field opened 20 years ago, accompanied by protestors who don't like the smiling, red-faced logo. In recent weeks, The Plain Dealer's editorial board, and Cleveland City Councilman Zack Reed, have come out against Wahoo as well. But fans like Dustin Lindeman from Canton say the chief is an homage to Native Americans.

"It is a part of our heritage. It is 100-percent not as offensive as a man in blackface. It is not being portrayed in a negative sense."

The Indians seem to have de-emphasized Chief Wahoo, adopting the block-letter 'C' as the official team logo this year. Social media has been abuzz with people diagraming how to remove Wahoo patches from jerseys and caps, and even ESPN has endorsed dropping the mascot. But if that happens, Roger Schmid from Boardman will stick with the logo he knows.

"I like the Chief Wahoo. I know it's in the news and everything right now. But it's part of the tradition. It's Cleveland baseball. I don't see it going away. I don't want it to go away."

But the biggest problem with Chief Wahoo for many Native Americans is his feather, says Lynn O'Keefe from Cleveland.

"Feathers are very sacred to Native American people. We use them in our dances [and] our ceremonies."

Robert Rocha adds, "That's an honor bestowed by our spiritual people. It's blasphemous. It's a part of our religion."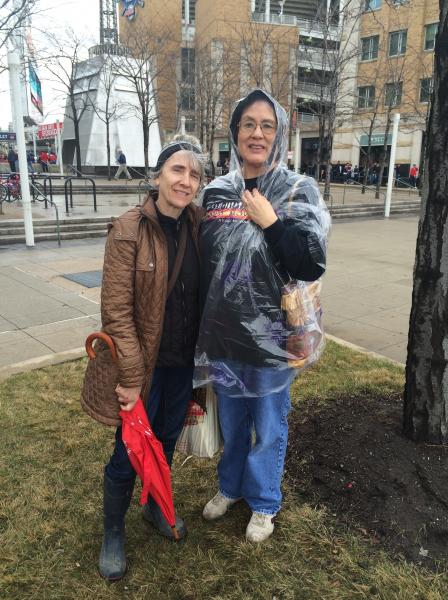 Chief Wahoo was commissioned by Indians' owner Bill Veeck in 1947. He said he wanted a logo that conveyed "a spirit of pure joy and unbridled enthusiasm." The finished product was redesigned to its current form in 1951, and has been gracing ball caps and jerseys ever since. But there's one other problem with "Chief Wahoo": chiefs have full headdresses. The Indians' mascot has just one feather… and that, technically, makes him a Brave.
---
---
---
Stories with Recent Comments