Loading...


Courts and Crime



Tuesday, April 8, 2014




How can you wipe a criminal record clean?




Akron clinic attorneys and law students help people file paperwork to expunge their records and open the way to jobs


by WKSU's KABIR BHATIA


Reporter
Kabir Bhatia
Joann Sahl (left) and Russel Nichols are part of the team running the Akron expungement clinics, the first Saturday of every month at the Akron Urban League
Courtesy of K. Bhatia
Download (WKSU Only)
In The Region:
One in six Ohioans has a criminal record, and state legislators have made changes in the law recently to help those people get jobs after they're released. In Summit County, a group of law students has been working one Saturday a month since last summer to help ex-cons clear the legal hurdles to employment. WKSU's Kabir Bhatia visited one of the clinics and found out what it takes to overcome the past.
Eric Williams from Canton looks like an insurance agent.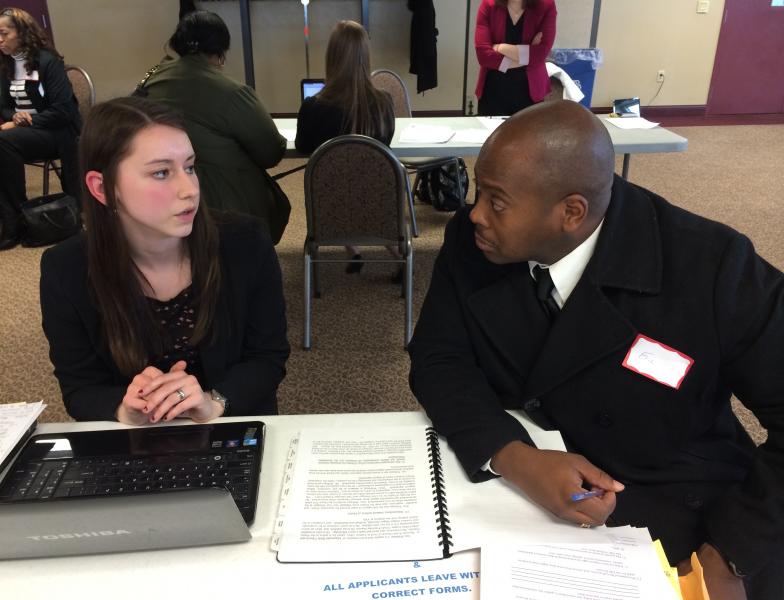 "I've changed. I've paid my debt to society. And now I need assistance with guaranteeing a safe and a good future."

He wears a crisp white shirt with a black tie. Shined shoes. Neatly trimmed moustache. He's pushing 50, and you'd never guess he was a fantastic drummer in high school who won the Louis Armstrong Jazz Award and then studied percussion at the University of Akron. You'd also never guess he'd have a record that needed to be expunged.

"When I was 20 years old, [I] got involved with a young lady. She was involved with another gentleman, unbeknownst to me. He was a felon. This gentleman became jealous of that. We had restraint orders. We ended up getting into an altercation. There was gunplay. And two people lost their lives that day. One person, physically. And the other person lost the life he was trying to earn and pursue."

He was convicted of murder, served time and has been out for more than a decade. And his past is preventing him from being licensed to sell insurance in the state of Ohio.

Legal eagles
That brought him to the expungement clinic at the Akron Urban League building last month. It's staffed by about 40 attorneys and law students from the University of Akron. They're working to help people like Eric Williams take advantage of changes in the law over the last year and a half. Attorney Russel Nichols explains.

"Previously, only first-time offenders were eligible for an expungement. They changed that so you can have up to two offenses, as long as both of them aren't felonies. Even that small increase led to a lot more people being eligible than they were before."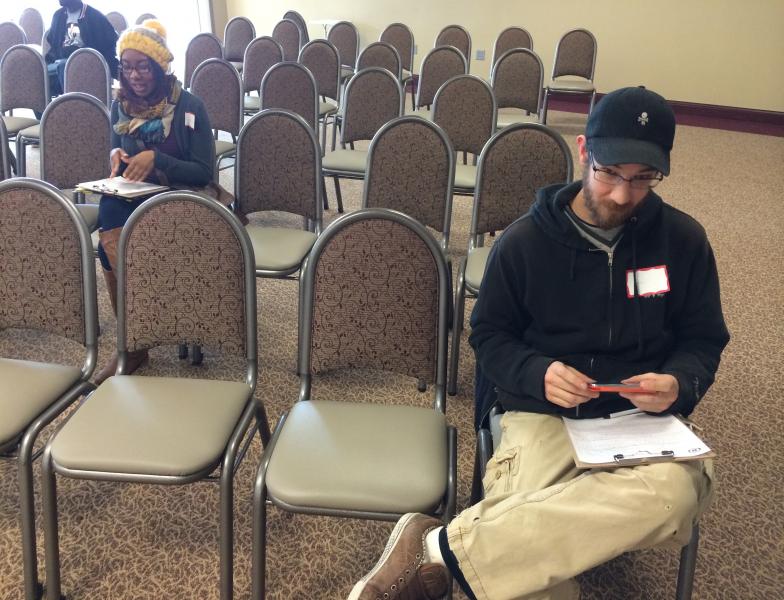 Nichols says about 150 people come to the monthly clinics, which are funded by grants from Summit County and the City of Akron. Getting through the process can be a legal maze, but it does not guarantee potential employers won't know about the past.

"Law enforcement can still see it. The courts are still able to see it. But most importantly, anywhere that you are likely to work with children or the elderly is still going to be able to see it."

Another option
To deal with that, another law created the Certificate of Qualified Employment, or "CQE," says Akron Law Professor Joann Sahl.

"The record still remains. All it is, is a certificate from the court that ... the client is being rehabilitated and they're a good candidate for the job they're seeking."

That's important in cases where expungement is not an option.

"So many people who come to us for help have more than two convictions. And they want to have a second chance. They want to have a chance at a job. So the CQE provides them with that opportunity. To become taxpaying citizens. To get a job and help their families and their community."

Sahl points out that the main reason for prison recidivism is lack of employment.

An expensive process
Last year, 374 CQE applications were started in Cuyahoga, Summit, Stark, Portage, Lorain, Lake and Mahoning counties. Of those, nine were approved, two were denied, and all the rest were under review, or never actually submitted. The reason for that, Sahl says, is the $250 filing fee. But that went down to $100 this year, and the expungement clinic now has community partners stepping in to help people who don't have the money. Kevin Warner may soon be one of those people. Like Eric Williams, he had youthful indiscretions while a college student at the University of Akron.

"I've got three or four misdemeanors: Petty theft, drug charges. Things like that."

The goateed, hoodie-wearing and perpetually smiling 30-year-old was studying Abnormal Psychology back then.

"I almost have more interest now because the abnormal psychology would have dealt with criminal aspects. And now that I've actually become a criminal, I somewhat have an insight now. So it's almost more interesting at this point."

So what kind of work is he looking for?

"Anything that'll hire me. Anything. I've done retail, construction, you name it. Not looking for anything specific."

Warner says he's kept his nose clean since 2007, when he got a $600 fine for drug possession. That didn't get paid off till last summer, so he has to wait until this summer before he can even apply to the clinic. Meanwhile, Eric Williams is almost halfway into the three-to-four month purgatory before his day in court, which could lead to his record being cleared. He also plans to petition Gov. Kasich for clemency. The next University of Akron expungement clinic is on Saturday, May 3.
---
---
---
Stories with Recent Comments