Ashford Thompson's attorney, Rachel Troutman, says nothing before July 13, 2008 suggested the then-23-year-old Thompson would shoot Joshua Miktarian four times in the head, leaving him dead in the road.
"He was a man who was identified as a nurse, a caretaker, somebody who only had a licensed concealed carry so that he could bring his gun with him to do home health care in bad neighborhoods. This was not a man who had been convicted of anything violent. He was deeply religious, and he was young and he was a nurse who had dedicated his life to taking care of others. In seven minutes, his life got out of control, and officer Miktarian was murdered."
For which Thompson is on death row – something Troutman was arguing he does not deserve.
But the state's attorney, Richard Kasay, argued alcohol and anger may have played a role, changing the person people thought Thompson was. And whatever Thompson was before the traffic stop that morning, Kasay noted, he fled it as a cop killer.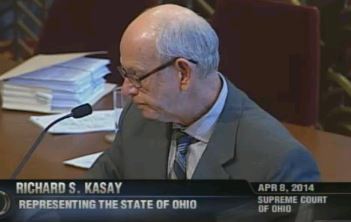 "The argument is that this is a law-abiding religious, mild-mannered peaceful nurse. And maybe before that night, he was. But he didn't act in character when there's evidence that what was going on in Mr. Thompson's psyche was not what others perceived him to have."
Questions of escalation and remorse
The defense attorney,Troutman, suggested what turned Thompson that night was fear when the traffic stop by Miktarian – and Miktarian's dog in the cruiser -- started to get out of control. Chief Justice Maureen O'Connor challenged her.
"In Ashford Thompson's mind, he was pulled over for a noise ordinance violation, something that is not an arrestable offense, and all of the sudden he ended up on the hood of a police car and he was handcuffed. And he saw the police officer reaching for what he thought was a gun. He reached for his taser. …"
"Was he resisting arresting arrest."
"… Absolutely."
"So the police officer is trying to cuff him and he reaches for his taser."
"Yes, your honor."
"… So your client was resisting arrest … Rather than cooperate and sort the whole thing out, he ends of killing the police officer."
Why not more consideration?
Troutman wasn't the only one pressed by the justices.
Justice William O'Neill pressed Kasay on why, during his trial, the questions of Thompson's feelings of duress that night – and of remorse long afterwards – were quickly dismissed.
"It seems to me that the remorse of the defendant is very clear here, and the trial court said, 'Yeah, well, but he fled the scene so therefore there is no remorse.' I'm having trouble with that."
"That was the trial court's reasoning; Mr. Thompson did express remorse in his unsworn statement. The trial court's evaluation … that it was entitled to little if any weight was (based on) the fleeing after murdering the officer."
What mitigates the horrors of a crime?
The facts of the case also raised a much broader philosophical question in the mind of Justice Paul Pfeifer, who as a state lawmaker reintroduced the death penalty to Ohio -- and who has since become an opponent.
Key to getting a death sentence in Ohio is a stage called mitigation, in which judges or jurors weigh whether the life lived before a crime – and other factors – outweigh the horror of the crime itself. To Pfeifer, Thompson's clean record is somewhat of a conundrum.
"Should it be mitigating that one had a lousy childhood, abusive parents, in-an-out of institutions as a youth. Would that be mitigating? Or would it be more mitigating that one brought up in the same neighborhood stayed out of trouble, served his country, went to church, had a profession?"
Whatever the answer the court reaches, the justices seemed to share one sentiment throughout the arguments. The case of Ashford Thompson and Joshua Miktarian is tragic.