Loading...


Ohio



Wednesday, April 9, 2014




FirstEnergy makes upgrades in Lake County as a long-term fix for outages




Aging insulators are pegged as the problem




Story by

LYNDSEY SCHLEY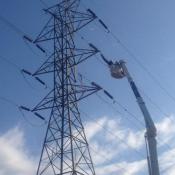 Insulators caused power outages that affected thousands of people over two weekends in early March.
Courtesy of FirstEnergy
Download (WKSU Only)
In The Region:
First Energy is replacing hundreds of insulators to try to address problems that led to two large power outages in Lake County last month. The insulators, which hold power lines in place, run along 138,000-volt transmission lines that were knocked out on March 1 and again on March 8. FirstEnergy's spokesman Mark Durbin says winter weather contributed to both outages, but different ways. With the first…
"The cold weather caused it to to become brittle and break. And the other outage was caused, we believe, by salt from nearby highway 2 getting up into the conductors, up into the wires and then ultimately, that is what cause that particular insulator to fail."
Durbin says, in all, FirstEnergy will be replacing more than 220 insulators and it will take as much as a month. He said the work is part of a four-year, $4.2 billion upgrade that was planned even before the outages. He says the costs will be added to rates once the projects are all complete.
---
---
Stories with Recent Comments