Loading...



From WKYC.COM / TV 3
Get the latest school closings and delays


Funding for WKSU is made possible in part through support from the following businesses and organizations.
---
For more information on how your company or organization can support WKSU, download the WKSU Media Kit.

(WKSU Media Kit


)
---

Sports



Wednesday, April 9, 2014




Canton's Thurman Munson Stadium unveils a new field and a new relationship with Akron




The field is the first of a three stage upgrade plan




Story by

KELSEY LEYVA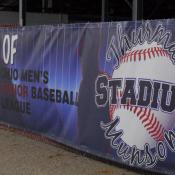 The new field is one of the first upgrades to Thurman Munson Memorial Stadium since the Cleveland Indians Double-A affiliate left for Akron in 1997.
Courtesy of Kelsey Leyva
Download (WKSU Only)
In The Region:
Canton's Thurman Munson Memorial Stadium unveiled a new $100,000 field Wednesday. It's one of the first major improvements done since the Cleveland Indians Double-A affiliate left for a new ballpark in Akron. That was nearly 17 years ago. And the new owner of the team now known as the Akron RubberDucks is trying to make amends. Ken Babby says he hopes partnering with Munson stadium will be a step towards reconciliation.
"We have relationships to repair. When the team moved north it insulted a lot of people and we're here to rebuild those relationships every day doing what we can in the community. I think this is really important and that starts today with our commitment down here to the ballpark and we'll be back to do a lot more over time."
Three stages of upgrades are planned in all. Next come improvements to the facility, including restrooms and concession stands.

In addition to collaborating on the revamp, Babby is also working with the stadium and the Ohio Men's Senior Baseball League to host a baseball camp this summer.

The University of Akron's head coach and players, along with other college and high school coaches in the area, will be the instructors at the camp.
Page Options

Print this page

E-Mail this page / Send mp3

Share on Facebook
---
---
Stories with Recent Comments