Loading...


Courts and Crime



Thursday, April 10, 2014




A deeper look at the recommended changes for Ohio's death penalty




The head of the task force explains the thinking behind many of the changes, and the racial, geographic and evidence inequalities of the current system


by WKSU's M.L. SCHULTZE


Web Editor
M.L. Schultze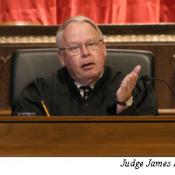 Judge James Brogan says the changes are designed to ensure only the guilty are put to death.
Courtesy of Ohio Supreme Court
Download (WKSU Only)
In The Region:
A task force appointed by the Ohio Supreme Court is recommending a major overhaul of Ohio's death penalty. WKSU's M.L. Schultze reports that the 56 recommendations touch on everything from the types of crimes that justify capital punishment to the types of evidence that can be used.
The task force has been working on the recommendations for two years, with retired appeals Judge James Brogan chairing the panel. He notes that in 143 cases nationwide – six in Ohio – people on death row have been exonerated. In about half those cases, the defendants were misidentified, and Brogan says new state laws are already in place to try to address that.
---
---
---
Stories with Recent Comments