Loading...



From WKYC.COM / TV 3
Get the latest school closings and delays


Funding for WKSU is made possible in part through support from the following businesses and organizations.
---
For more information on how your company or organization can support WKSU, download the WKSU Media Kit.

(WKSU Media Kit


)
---

Courts and Crime



Friday, April 11, 2014




Brawl brings police to Akron highs school




No injuries or uses of weapons were reported


by WKSU's TIM RUDELL


Reporter
Tim Rudell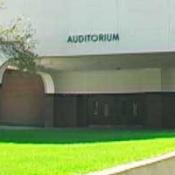 Auditorium at Akron Kenmore High School. The fight broke out in the main school building on the second floor.
Courtesy of Akron City Schools
Download (WKSU Only)
In The Region:
More than a dozen students were arrested following a big fight in Akron's Kenmore High School Friday. WKSU's Tim Rudell reports as many as thirty young people may have been involved.
It all started shortly after 9:00 A.M.
School officials said they had just been alerted to a facebook posting about a fight at Kenmore High and were calling police when the melee broke out. It took about fifteen minutes for arriving officers to restore order. No one was injured and no weapons were seen.

Police arrived
Lieutenant Rick Edwards of the Akron Police Department says the charges are serious. "They will be charged with rioting. We will follow up later…we are looking into surveillance cameras here to see if there are any other kids that were involved that we don't have in custody; so there could be additional charges later."

Cause unclear
School District spokesman Mark Williamson said how and why the fight started is not yet fully known; but that a student from another school, possibly Akron Buchtel High School, may have come into the Kenmore building and gotten into an altercation on the second floor, where the fight then occurred. Classes at Kenmore were dismissed for the rest of the day.
---
---