Loading...


People



Monday, April 14, 2014




Federal judge says he'll strike down part of Ohio's same-sex marriage ban




Judge's ruling could lead to legal challenges in the U.S. Supreme Court, a move that both proponents and opponents view as likely


by WKSU's KABIR BHATIA


Reporter
Kabir Bhatia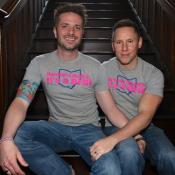 FreedomOhio considers Judge Black's ruling a victory, regardless of what higher courts eventually do with it
Courtesy of FreedomOhio.org
Download (WKSU Only)
In The Region:
A federal judge is ruling today that Ohio must recognize same-sex marriages performed in other states. And as WKSU's Kabir Bhatia reports, both sides are gearing up for a battle in the courts of law and of public opinion.
In February, three Cincinnati lesbian couples asked the state to recognize both parents' on birth certificates for the babies they're expecting in a few months. The couples were married out-of-state. And U.S. District Judge Timothy Black is expected to say that Ohio's refusal to recognize those unions violates their Constitutional rights.

But State Rep. John Becker, a Republican from southwest Ohio, says Judge Black is trampling a different part of the Constitution – states' rights. He cites the gay marriage ban Ohio voters passed in 2004 by 62 percent.

"This is just another example of federal judges using their personal-political bias to forward an agenda. That's not what they're supposed to be doing. And that's why I am asking the Congress to initiate the impeachment proceedings."

Becker is the only sponsor of a resolution urging the U.S. House to remove Judge Black.

"Frankly, there is nothing we can do federal judges. They're appointed for life. They don't have to stand accountable to voters. The only way to get rid of them is through impeachment."

Only seven federal judges have ever been impeached. Becker first called for Black's impeachment last year, when the judge ruled Ohio must recognize a same-sex couple on a death certificate.

After today's expected ruling on birth certificates, Attorney General Mike DeWine says he'll file an appeal. He told Ohio Public Radio last week that he expects this issue to eventually reach the U.S. Supreme Court, whether from Ohio or another state.

Ian James, executive director of FreedomOhio, agrees that the issue is headed for the high court. And he agrees it's related to Constitutional law.

"We're either all equal, or we are not. The 14th Amendment – equal protection – is for everybody. Not just one state over another. Not just one person over another. It's everybody. So I don't believe this is political; it's Constitutional."

James and FreedomOhio are trying to get an issue on the ballot to let Ohioans vote again on same-sex marriage. Meanwhile, he says "the reality is: the ruling will be stayed. It won't go into effect right away. But it's great momentum, and it's showing that as we continue to talk about equality, that not only are federal courts taking notice, but the general public is taking notice. Eventually, the Supreme Court will take notice."

Same-sex marriage bans were recently struck down in Michigan, Utah and Virginia, and it's now legal in 17 states and Washington, D.C. Stays have been issued in several of those cases, pending appeal.

James views the current situation in Ohio as a win-win, because even if the Supreme Court eventually rules against same-sex marriage, he says that will only galvanize FreedomOhio's push for a ballot issue.
---
---
---
Stories with Recent Comments