Loading...


Ohio



Monday, April 14, 2014




Federal judge orders Ohio to recognize same-sex marriages in other states




Judge Black calls Ohio's same-sex marriage ban "arbitrary discrimination," but ha also holds up enforcement of his order


by WKSU's M.L. SCHULTZE


Web Editor
M.L. Schultze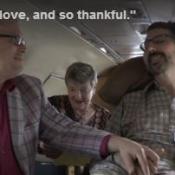 Judge Black's involvement in same-sex marriage issues began when he ordered Ohio to recognize a legal marriage performed elsewhere on a death certificate.
Download (WKSU Only)
In The Region:
A federal judge has ordered Ohio to recognize the marriages of gay couples performed legally in other states.

U.S. District Judge Timothy Black's ruling today criticized the state's "ongoing arbitrary discrimination on the basis of sexual orientation."
Voters amended Ohio's constitution in 2004 to forbid same-sex marriage. But Black says the state's marriage recognition bans are violate the U.S. Constitution and are unenforceable.

The order doesn't force Ohio to allow gay marriages to be performed in the state. And in an unusual move, the judge held up enforcement of his own decision pending an appeal. He ordered the same-sex couples who want their marriages recognized on their children's birth certificates to respond to his ruling today, and the state to respond by 3 p.m. tomorrow.
---
---
---
Stories with Recent Comments