Loading...


Economy and Business




Tuesday, April 15, 2014




Cab drivers who refuse to drive Gay Games taxis will be replaced




Some of Cleveland Hopkins International Airport's fleet of cab drivers refuse to advertise the games due to religious reasons




Story by

KELSEY LEYVA


This story is part of a special series.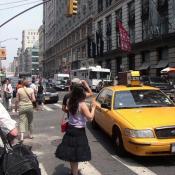 Tom Nobbe, executive director of the Gay Games, says the small group of cab drivers opposing advertising the games don't accurately represent Cleveland. He says the overall community is enthusiastic about the games coming this summer.
Courtesy of Creative Commons: Daniel Lobo
Download (WKSU Only)
In The Region:
An agreement has been reached between cab companies at Cleveland Hopkins Airport whose drivers have refused to sport placards advertising the upcoming Gay Games. Cleveland Hopkins says two of the three taxi companies operating there were informed by several drivers that they will no longer participate in the airport's dedicated cab program because of religious reasons. The airport said plans are in the works to replace the drivers in the 75-cab Hopkins fleet. Metered taxi cabs will be used until permanent drivers are hired.

Tom Nobbe is the executive director of the Gay Games. He says the reaction by the small group of cab drivers is not representative of Cleveland as a whole.
"We respect their decision. We don't agree with it, but it's not going to change how we are marketing the games because we truly feel that overall the community has really been so enthusiastic about the games coming this summer. And come August, I think there's no question that our guests are going to be welcomed."

Nobbe says diversity training is available for organizations involved with the Gay Games who wish to prepare for the visitors' arrival.
---
---
---
Stories with Recent Comments