Loading...


Economy and Business



Wednesday, April 16, 2014




GM revamps parts-ordering for Chevy Cobalt recall




Affected vehicles will now get priority in the company's replacement part system


by WKSU's KABIR BHATIA


Reporter
Kabir Bhatia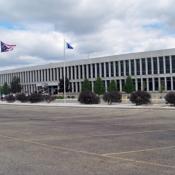 GM has invested millions in its Lordstown plant since the introduction of the Cobalt's replacement, the Chevy Cruze, which has been a best-selling compact since its introduction in 2009.
Courtesy of Jeff St. Clair
Download (WKSU Only)
In The Region:
General Motors is trying to expedite delivery of ignition parts linked to a massive recall earlier this month. About 2.6 million small cars made from 2003 to 2011 could have the key removed or jostled while driving, which can lead to a crash and deactivate the airbags. General Motors spokesman Kevin Kelly says there is no timetable yet for the fixes.
"Nationally, repairs are underway and we expect to complete more vehicles daily. I don't have any specific numbers related to Ohio, but I can tell you that repairs are underway."

Two of the vehicles targeted by the recall are the Chevrolet Cobalt and Pontiac G-5, which were produced in Lordstown before the plant converted to making the Chevy Cruze. Other models include the Saturn Ion, Chevy HHR and the Pontiac Solstice/Saturn Sky roadsters. Any GM dealer – including Buick, GMC and Cadillac – can perform the repairs, which take about an hour.

---
---
---
Stories with Recent Comments