Loading...





Thursday, April 17, 2014




Former Cuyahoga Falls mayor under investigation over computer files




Other morning headlines: Former state budget director to head PUCO; Richmond Heights Superintendent resigns; Substitute teacher accused of child endangerment wants video reviewed


by WKSU's AMANDA RABINOWITZ


and

LAUREN SCHMOLL



Morning Edition Host
Amanda Rabinowitz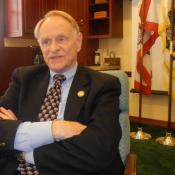 Questionable files were found on former Cuyhoga Falls Mayor Don Robart's city hall computer.
Download (WKSU Only)
The latest WKSU news headlines:
Former Cuyahoga Falls mayor under investigation over computer files
The former longtime mayor of Cuyahoga Falls is under investigation after pornography and questionable campaign files were found on his city hall office computer. Current mayor Don Walters says his secretary found files including spreadsheets of voter names and party affiliations, along with locations of party signs on Don Robart's computer. There were also files containing videos and photos of nude women and couples engaging in sex acts. The Beacon Journal reports that investigators are trying to determine whether Robart violated any criminal or ethics laws. Robart tells the paper he never used the computer to conduct campaign business or to view pornography.

Stay issued on order to recognize gay marriages
A Federal Judge in Cincinnati has put a stay on his order for Ohio to recognize gay marriages performed in other states. The stay by Judge Tim Black does not include the plaintiffs who want the state to allow their names on birth certificates for their children. Attorneys representing the four couples had urged Judge Black to lift the stay he issued Monday. Ohio Attorney General Mike DeWine says the stay is what his office had requested. Judge Black has indicated he thinks Ohio's ban on recognizing gay marriage is unconstitutional. The case now goes to the Sixth Circuit Court of Appeals.

Former state budget director to head PUCO
Gov. John Kasich has sworn in a former state budget director and lawmaker as Ohio's top utility regulator. Thomas Johnson is the new chairman of the Public Utilities Commission of Ohio. Johnson, of suburban Columbus, replaces Todd Snitchler, who decided not to seek reappointment when his term expired April 10. Johnson spent 22 years in the Ohio House before becoming budget director for then-Gov. Bob Taft.

Richmond Heights Superintendent resigns
Embattled Richmond Heights Superintendent Robert Moore II has officially resigned. Last month, Moore was indicted on charges of bribery, theft and extortion. He, along with maintenance supervisor Richard Muse, are accused of shaking down a daycare operator who was leasing space from the district. Moore is also charged with records tampering, involving expense reimbursements for a trip the men took to Columbus in January. The Richmond Heights school board unanimously put the pair on paid leave earlier this month and will appoint an interim replacement tonight.

Substitute teacher accused of child endangerment wants video reviewed
An attorney says video footage could help show that a substitute teacher isn't guilty of a child endangering charge. The case involves allegations that a developmentally disabled teenager was struck and bullied in gym class at Parma Senior High School. Authorities say other students kicked the 14-year-old boy and dragged him around by his feet in February. Police say the teacher, 49-year old Gregg Mellinger, continued class elsewhere in the gym while the teen remained on the floor. He has pleaded not guilty and his lawyer has asked for 30 days to review video of what happened.

Twinsburg man sentenced for tax fraud
A Twinsburg man has been sentenced to more than four years in prison for conspiring to file nearly $9 million in false tax returns. Authorities say Brian Krantz received $3.6 million through 17 refund checks he filed with accountant Bryan McCallum from 2009 through 2010. The pair used the names of companies they formed and other companies Krantz had purchased. He used $1 million he get in refunds to fund a real estate venture. He must pay $1.2 million in restitution.

Mahoning County union employees drop grievance over inmate labor
Union employees in the Mahoning County Engineers' office have dropped their grievance over inmates being used to help patch potholes on county roads. The Vindicator newspaper reports that Teamsters Local 377 withdrew the grievance this week, citing extreme weather the county had experienced and public safety concerns. Still, the newspaper reports the union is not conceding the issue and believes the use of free labor from inmates violates its labor contract.

6th Congressional candidate loans more than $100,000 to campaign
A Democrat running in Ohio's 6th Congressional district loaned more than $100,000 to her campaign in the first quarter of 2014. The Vindicator reports that former state representative Jennifer Garrison's contributions accounted for more than half of the total amount she raised from January through March. The incumbent, Republican Congressman Bill Johnson, raised more than $380,000. Overall, Johnson has raised nearly $1.4 million to Garrison's $460,000. The 6th congressional district includes parts of Mahoning County, Columbiana and extends into southeastern Ohio and is considered one of the most competitive Congressional races in the country.



---
---
---